Holiday Espresso Pairings
Recipes and Inspiration from our Austin Holiday Espresso Party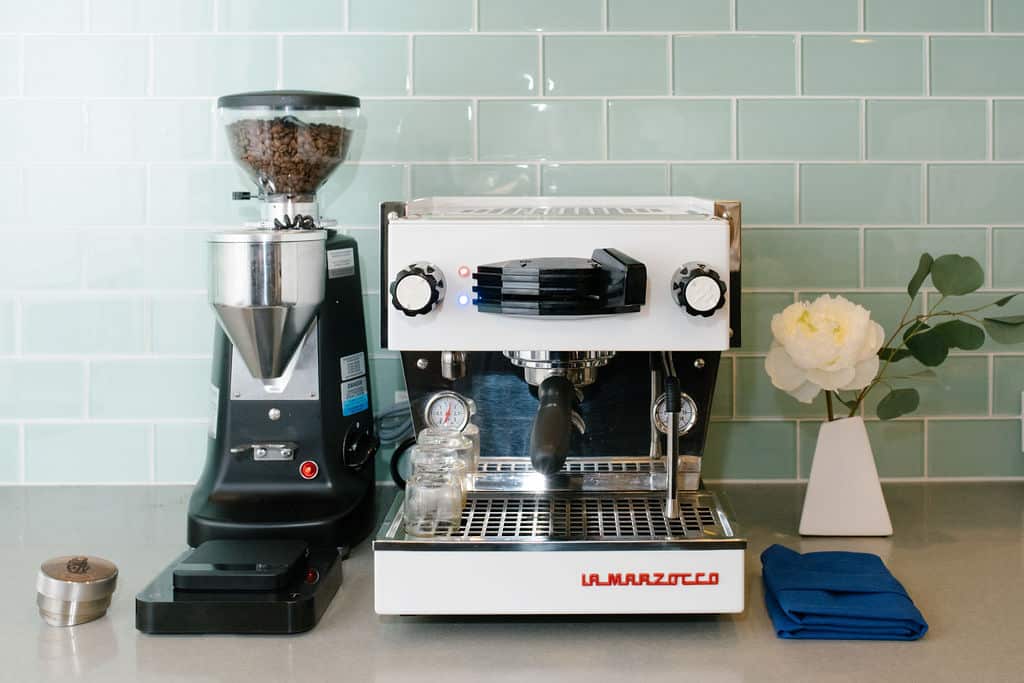 Early this December, our team flew to Austin, Texas to throw the ultimate holiday espresso party with Benji & Jamie Berger. In our recap, we break down the espresso menu, food pairings, decoration, and more. This post focuses on the recipes for our specialty espresso and food pairing menu. Scroll through to get our recipes and spark some ideas for throwing your own holiday espresso party.
The Tuscan Sunrise
with Orange & White Chocolate Madeleines
servings: 1 | serving size: 6 oz | difficulty: moderate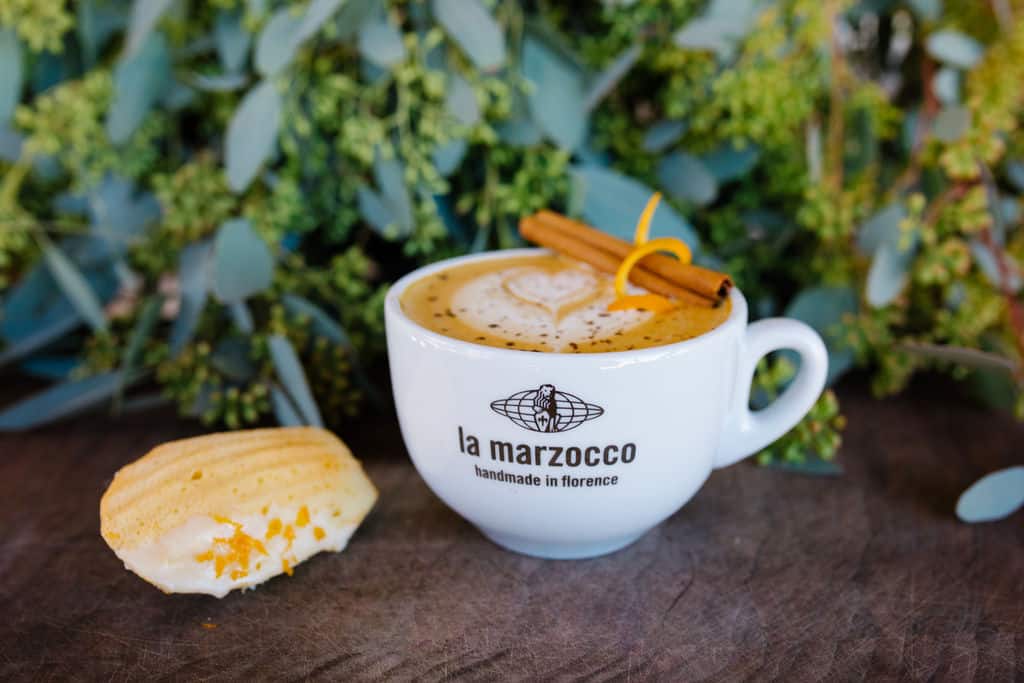 Paying homage to our company's Italian heritage, the Tuscan Sunrise is a velvety drink with flavors that remind us of a crisp morning in the hills of Scarperia. Utilizing a delicious black tea "Peacemaker Syrup" this espresso based drink is sweet, complex, and can be enjoyed by both coffee lovers and non coffee lovers alike. We paired these with Milk + Honey's White Chocolate and Orange Madeleines.
Ingredients
30g Peacemaker Syrup
24 – 36g Espresso
Steamed Milk
Directions
1. Add Milk & Syrup to Steaming Pitcher
2. Pull a shot of espresso
3. Steam milk and syrup
4. Pour milk into espresso
5. Top with Cinnamon and garnish, serve
Peacemaker Syrup
6g black tea
453g water
1 Ground Clove
150g Orange Juice
250g Sugar
2g Cinnamon
3g Orange Zest
2 Dashes Orange Blossom Water
Instructions
Brew Tea (6g) in Hot Water (453g), this will serve as the base of your simple syrup
Once tea is steeped, remove tea leaves and add the remainder of the ingredients. Bring to a boil (4-5 minutes). Remove from heat, allow to cool.
Holiday Punch
with Spiced Vanilla Bean Shortbread
servings: 3-4 | serving size: 8 oz | difficulty: easy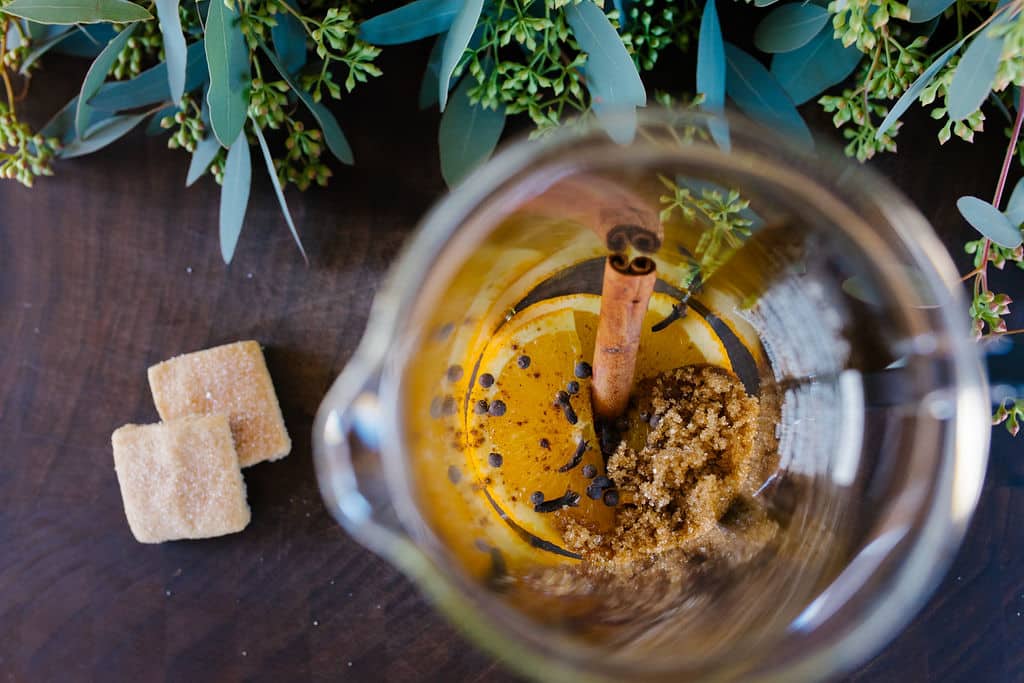 Think Mulled Coffee. We reach for this brewed coffee drink like we might reach for mulled wine while walking through a German Christmas market. We love how the blueberry character of the Yirgacheffe bounces through and plays nicely with the complex mulling spices. This is an incredibly aromatic drink and can be enjoyed with or without steamed cream. For bonus point, brew this in bathes and store in an airpot for instant cheer throughout the day.
Paired with Spiced Vanilla Bean Shortbread.
Ingredients
15g Brown Sugar
2 Orange Slices
1 Cinnamon Stick
2g Whole Cloves
60g Ground Coffee (Ethiopia Yirgacheffe is preferable, medium grind size, pourover or drip coffee particle size)
1000g Hot Water (105 – 205 F)
Optional: Cream
Directions
1. Add all dry ingredients to Large French Press or similar vessel
2. Add water
3. Brew for 4-5 Minutes
4. Pour into vessel, add steamed cream (optional)
Peppermint Mocha
with Dark Chocolate Biscotti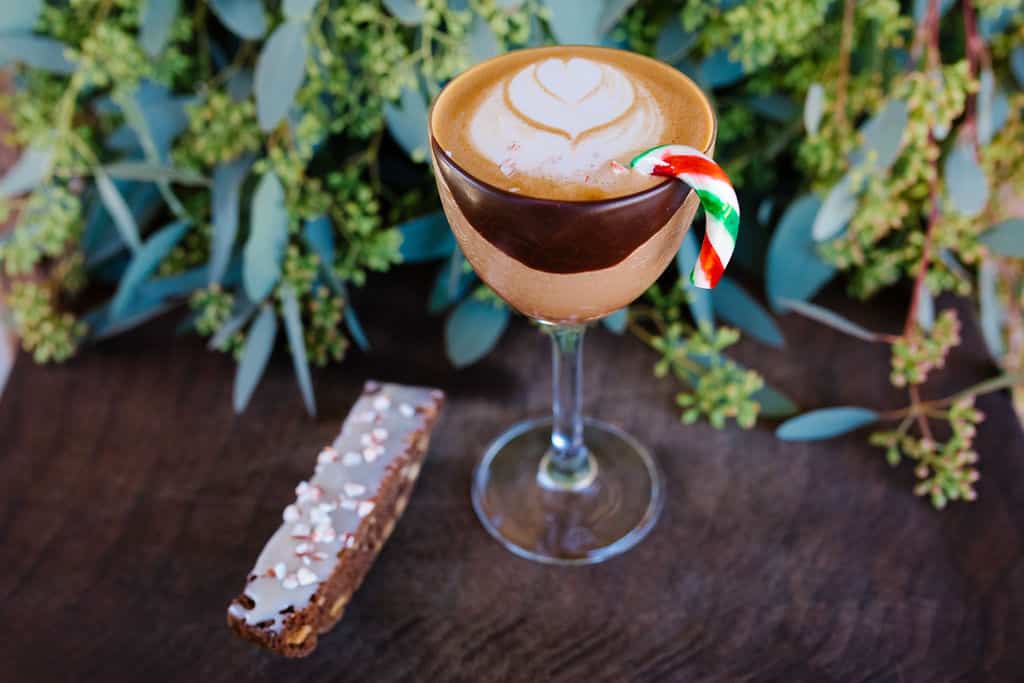 This is our holiday take on a classic mocha. The heavy body of the chocolate ganache combined with the hot steamed milk and cooling sensation of the peppermint makes for a soothing and heavy-bodied, yet delicate taste experience. We served these in stemmed glassware and rimmed with chocolate ganache. This is completely optional, but really adds a nice dimension to your drink.
Pair the peppermint mocha with these Dark Chocolate Biscotti.
Ingredients
Peppermint extract
1 crushed peppermint candy
25g Ganache
30g Peppermint Simple Syrup
1 extraction of espresso
Steamed milk
Directions
1. Rim serving vessel with ganache (refrigerate to solidify chocolate on rim)
2. In one vessel dose: 25g of ganache, 1 extraction of espresso. Mix together evenly. Poor into serving vessel.
3. Dose 150-175g of milk and 30g of pepermint simply syrup in steam pitcher. Steam milk, poor into serving vessel to combine with peppermint mocha mixture.
4. Enjoy 🙂
Peppermint Simple Syrup
1:1 water/ sugar. 120g water: 120g sugar, 15-30g peppermint extract.
Directions:
1. Bring water to boil, lower heat upon boil.
2. Slowly introduce sugar.
3. Whisk until dissolved.
4. Add peppermint extract to taste, stir to mix evenly.
Ganache
1:1 heavy whipping cream/ chocolate melting discs. 100g heavy whipping cream: 100g chocolate discs.
Directions:
1. Bring heavy whipping cream to boil, turn off heat, allow cream to cool to 90-110F
2. Chop or break discs into course pieces
3. Once cream cools, add chocolate and slowly whisk until emulsified.
---
☕️
Throwing your own espresso party or have recipes you want to share? Be sure to tag us (@lamarzoccohome) with the hashtag #holidayespressoparty.