Holiday Kitchen Takeover
Early this December, our team flew to Austin, Texas to throw the ultimate holiday espresso party with Benji & Jamie Berger. In our recap, we break down the espresso menu, food pairings, decoration, and more. This post is a recap of the party, along with espresso and food recipes, decorating tips, and other considerations. Scroll through to get our recipes and spark some ideas for throwing your own holiday espresso party. Our hope is that you'll be inspired to host your own #holidayespressoparty.
—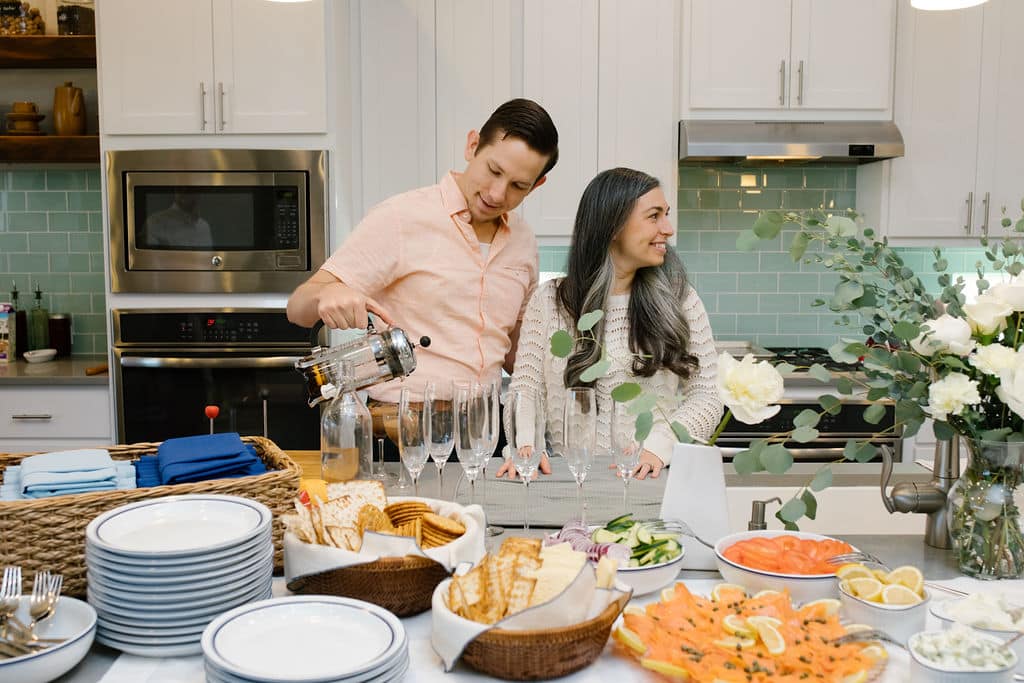 —
'Tis the season for holiday celebrations; gathering friends and family, sharing traditions old and new, and, most importantly, eating and drinking as though New Year's resolutions have gone out of style. This year, we decided to take advantage of the opportunity to celebrate the holidays and turn our focus toward the home barista community. Home Baristas have a hobby & skill worth sharing, so what better way to share it than by entertaining for the holidays?
In that spirit, we created the Holiday Kitchen Takeover.
Holiday Kitchen Takeover was designed to be an event—a holiday espresso party, to be exact—centered around one family's unique traditions and, you guessed it, espresso. Our team would fly out to the family's home, take over the kitchen (and entire house, really), and throw the ultimate holiday espresso party for 15-20 of their friends and loved ones.
So, we reached out to you, the home barista community, and after receiving hundreds of beautifully-written and thoughtful submissions, we landed on Benji & Jamie Berger, from Austin, Texas.
Planning our Holiday Espresso Party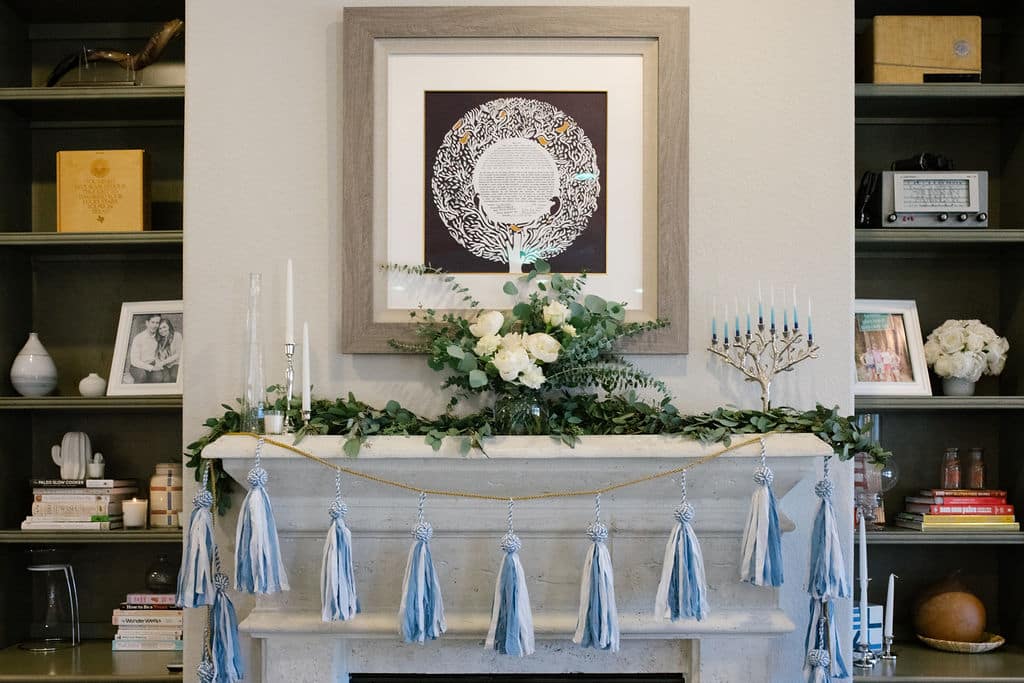 To pull it off, we partnered with Amy Virginia Buchanan, the incredibly-talented Brooklyn-based experience designer. She helped us combine the Berger's customs with our own hopes for the party.
When she joined, it really helped us create an elevated experience for the guests, and took everything next level. Amy actually planned last year's La Marzocco "Choose Your Own Adventure Party" at the SCA Expo in Seattle—if you attended, you know what a good time that was. What she came up with was exactly what we dreamed about when we came up with the idea for Holiday Kitchen Takeover.
Amy dove in, and started to get to know the Berger family through a series of phone calls, emails, and FaceTimes.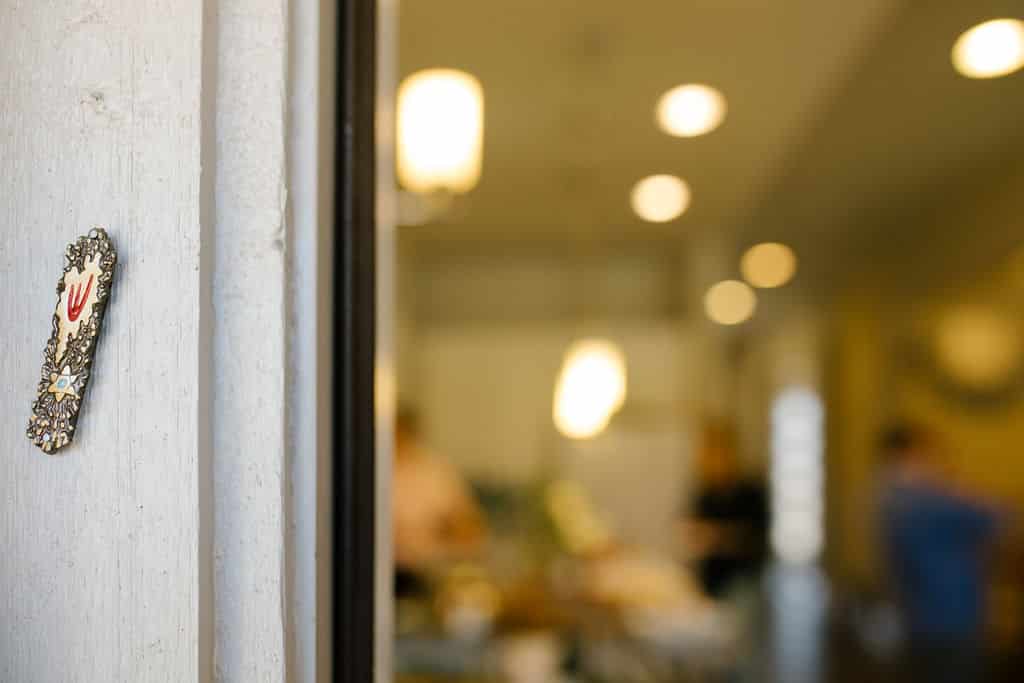 She found out that Benji & Jamie have a large and extensive circle of friends that they know through a wide variety of different ways. Also, the Bergers are Jewish, so we wanted to make sure our holiday espresso party was rooted-in and inspired-by Hanukkah. Ultimately, our goal was to celebrate their love of espresso, as well as their cherished traditions connected to Hanukkah—with friends that are both familiar and unfamiliar with the holiday. Jamie and Benji also have an awesome one-year-old daughter, Mika, so we determined pretty early on that our party would be child-friendly.
We found throughout our preparation that the Bergers are meticulous in the organization of their space, but incredibly chill when it comes to welcoming people in—so we used those guidelines to establishing the overall vibe of the event. A come-and-go, stay-as-long-as-you-want gathering with relaxed arrival times and a flexible schedule, so as not to interfere with naps or feeding for little ones.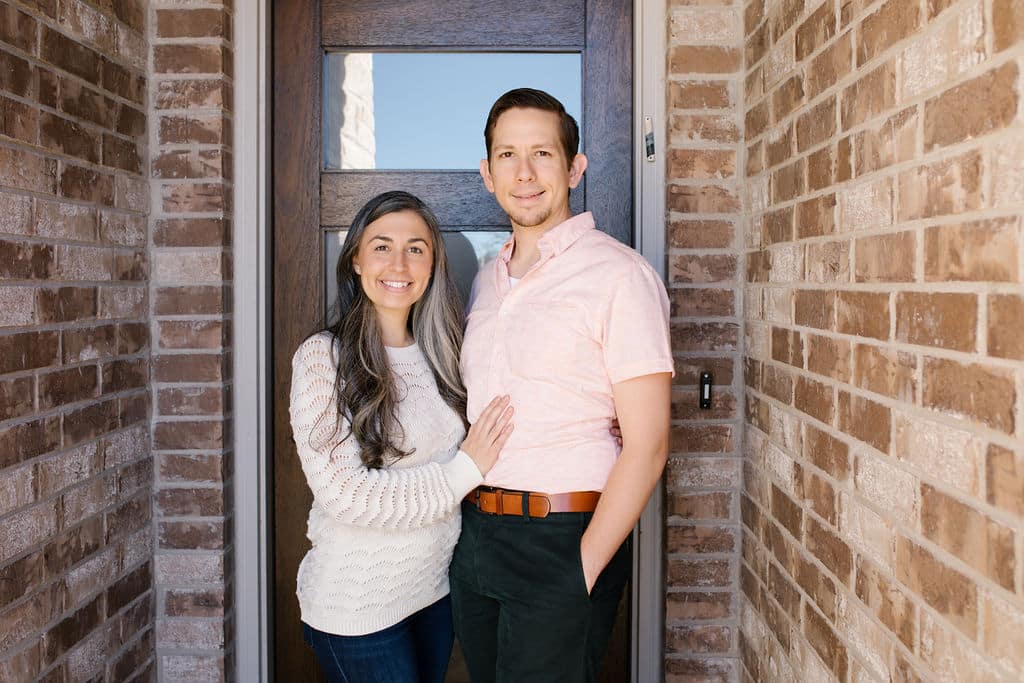 Considering that we would be drinking copious amounts of espresso beverages, it made the most sense to hold a mid-day brunch with activities for children and grown-ups alike, all accompanied by speciality espresso drinks prepared in the moment by our team.
With the details all set, our team flew down to Austin and got busy shopping and baking—we met up with Amy (who was already there and had basically become best friends with the Bergers) on Thursday. After a long day of gathering, and baking, and decorating, and fine-tuning, we hung out with Jamie & Benji at their place with Barbecue and a really nice time of food and conversation in their home—a time we really cherished as a team. Thursday night was the kind of thing you couldn't plan, and it was perfect. We knew we had a big day ahead, and hanging out with our new friends was the perfect type of rest & relaxation we needed.
The Holiday Espresso Party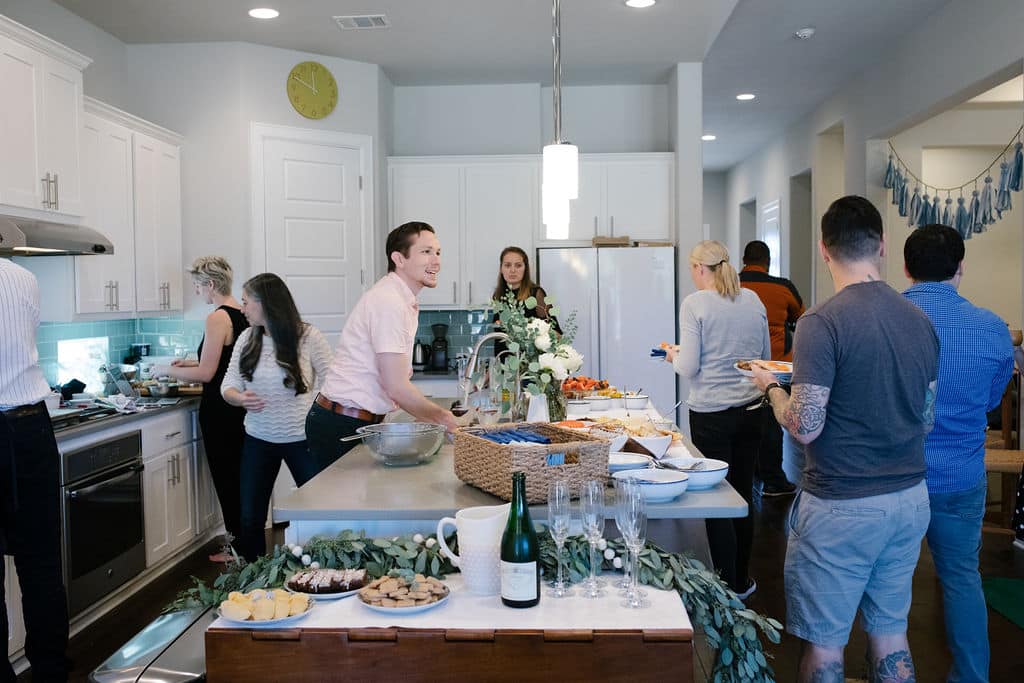 When it came to decorating, the Berger's gorgeous home proved to be a perfect canvas to build upon. The blue, white, and silver colors of Hanukkah gave us a color palette to lean into and really emphasize the holiday. Amy helped us accomplish this in a simple and elegant way by hanging tassel garland, using table linens, and changing out the throw pillows on couches and chairs. Since lighting candles on the menorah is a key element of Hanukkah, we incorporated candles throughout the entire space. The blooms in the florals were kept simple and white, and considering that Austin winters are relatively warm, they were filled out with cool eucalyptus rather than vibrant pine.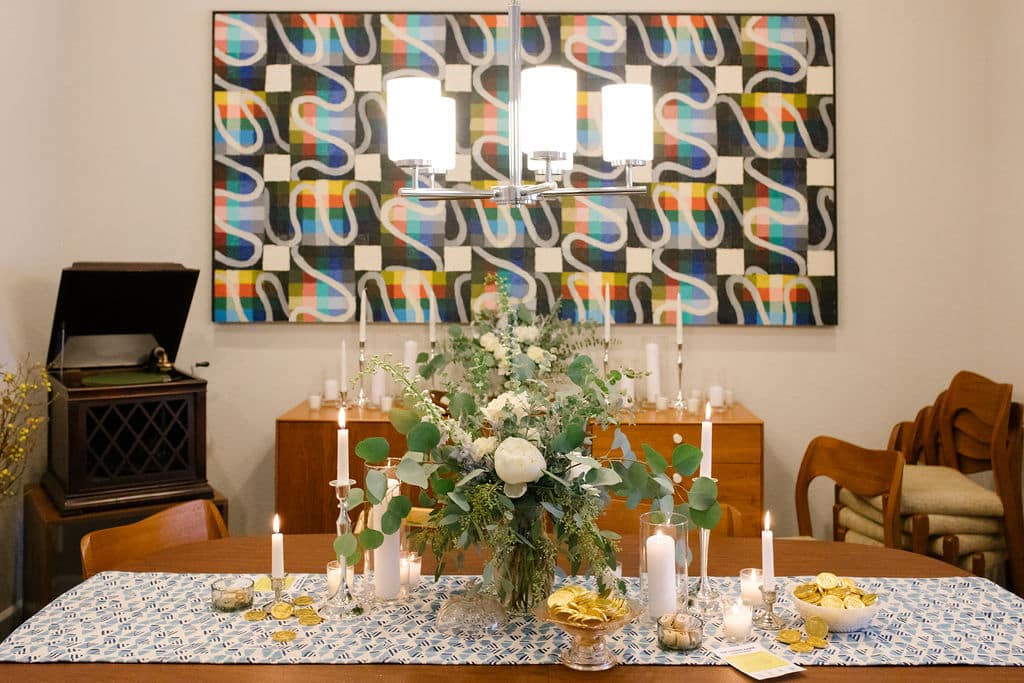 Put very simply, Hanukkah is a festival of lights which is celebrated with the lighting of a menorah, special prayers, and fried foods—delightful things to take into consideration as we were developing our menu. The stars of the savory spread were the latkes, fried potato pancakes made a la minute, as they taste best when hot. Jamie prepared the batter, then taught our very own Scott Callender how to fry them up. Brisket, salmon lox, and fresh salads filled out the buffet with a finale of sufganiyot, and Jewish jelly-filled doughnuts made specially by Voodoo Doughnut. With the beverage focus being espresso & coffee, we decided on a simple mimosa bar with orange and peach nectar served alongside a Californian petillant-naturel sourced by The Austin Wine Merchant.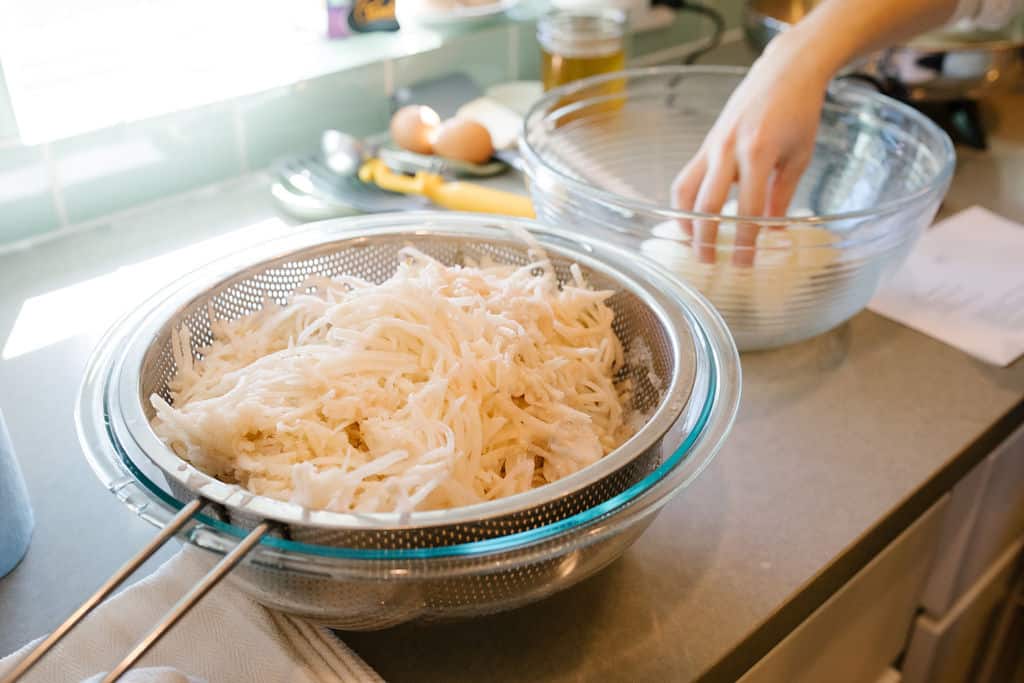 —
The Espresso Menu + Food Pairings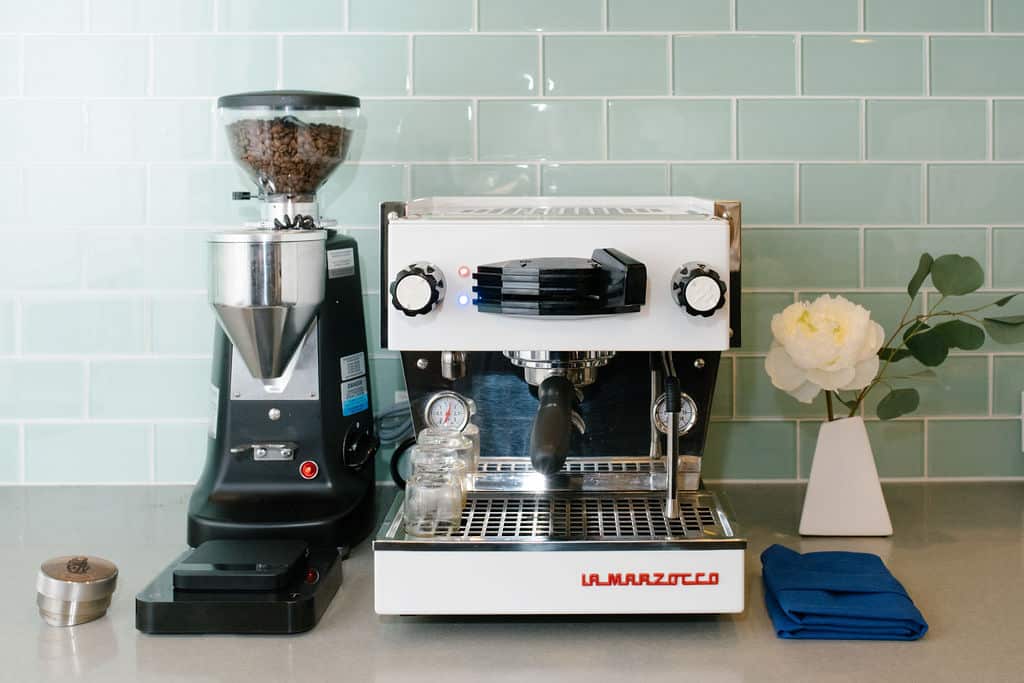 —
Our espresso menu was specially crafted for this experience, featuring flavors of the season and paired with desserts designed and developed by Hannah Abaffy of Milk and Honey the Bakery. Benji had a Linea Mini, so we knew we could really go wild with our espresso drinks. We didn't need to worry about the volume of people at the party or how many drinks we'd be needing to make. Brewing and steaming wouldn't be a problem, so all we had to do was dial-in our workflow, have the ingredients on hand, and have fun.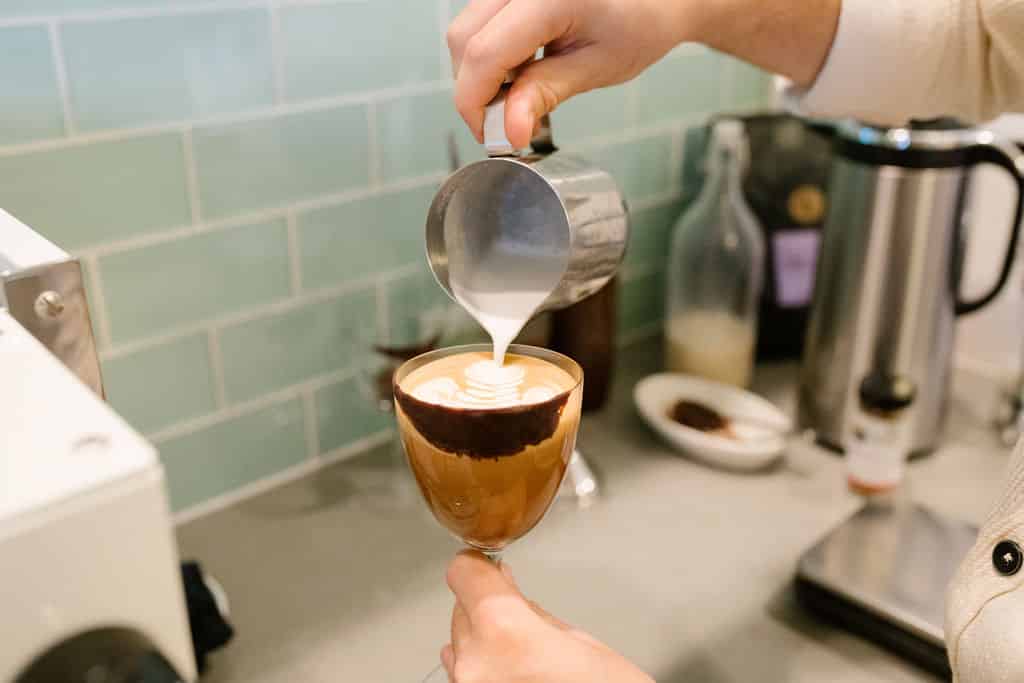 As we developed the drink menu, we wanted to make sure we looped in our company's Italian heritage while still tying in some of the flavors of the holiday season. So, we got to testing and tasting, and came up with a menu of three delicious drinks to be paired with Hannah's creations.
You can find the entire lineup of drink recipes from the day in our "HKT: Food & Drink" post.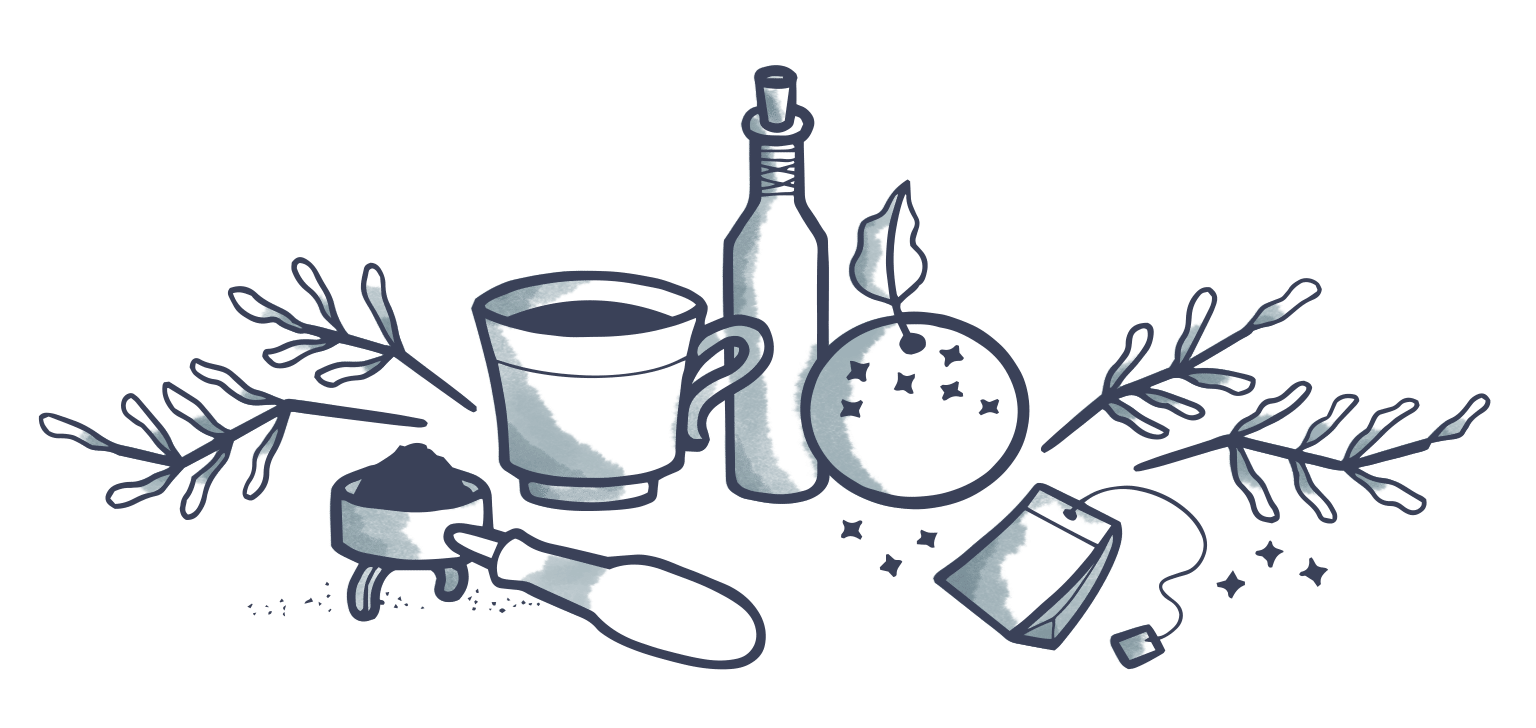 The Tuscan Sunrise
Paired with Orange & White Chocolate Madeleines
—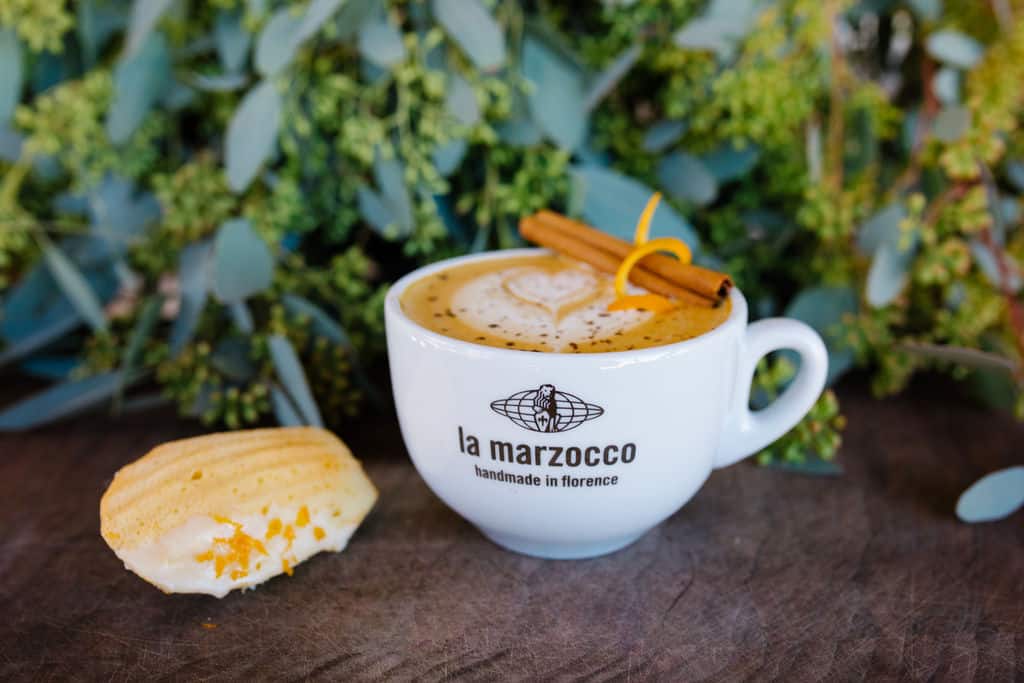 Double shot of espresso + steamed milk combined with a simple syrup made from black tea, clove, orange juice, cinnamon, orange zest, orange blossom water, and sugar.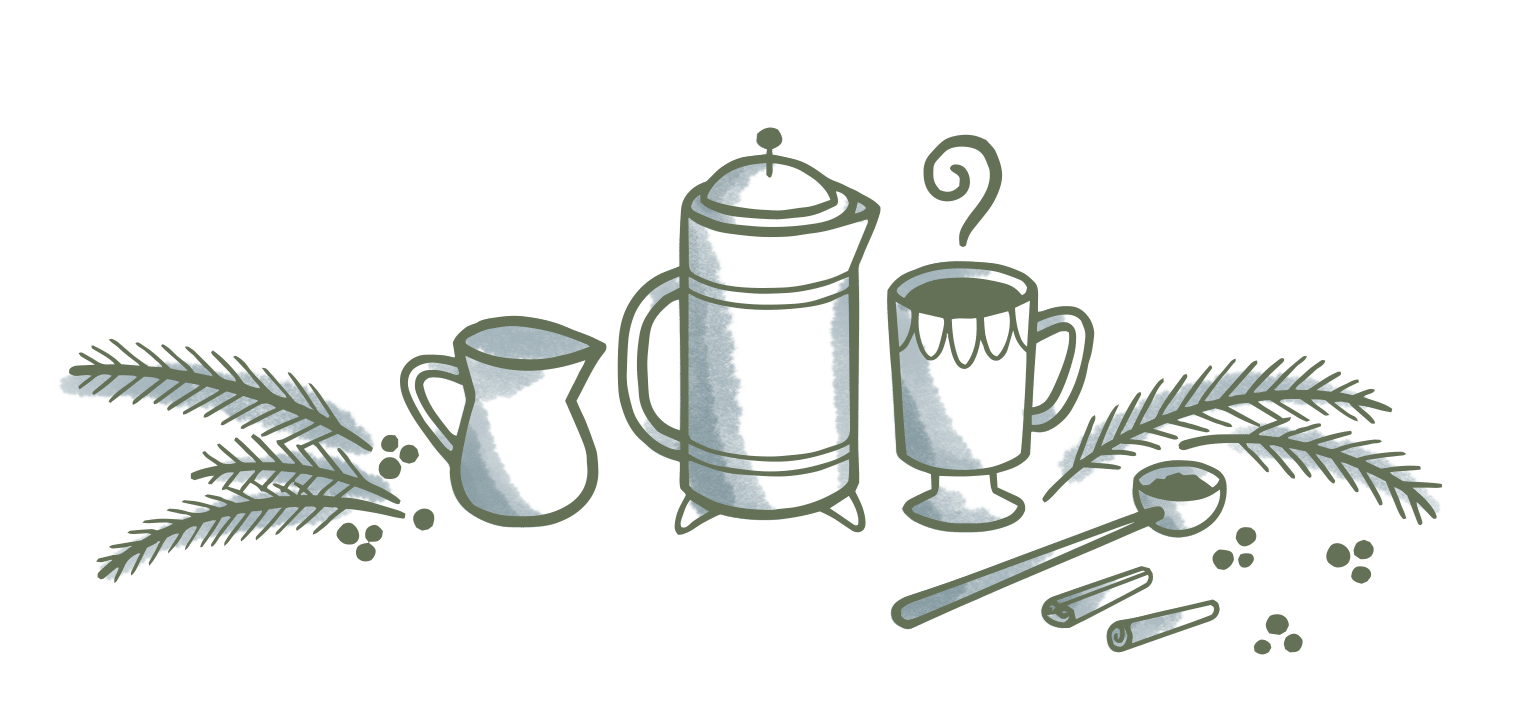 Holiday Punch
Paired with Spiced Vanilla Bean Shortbread
—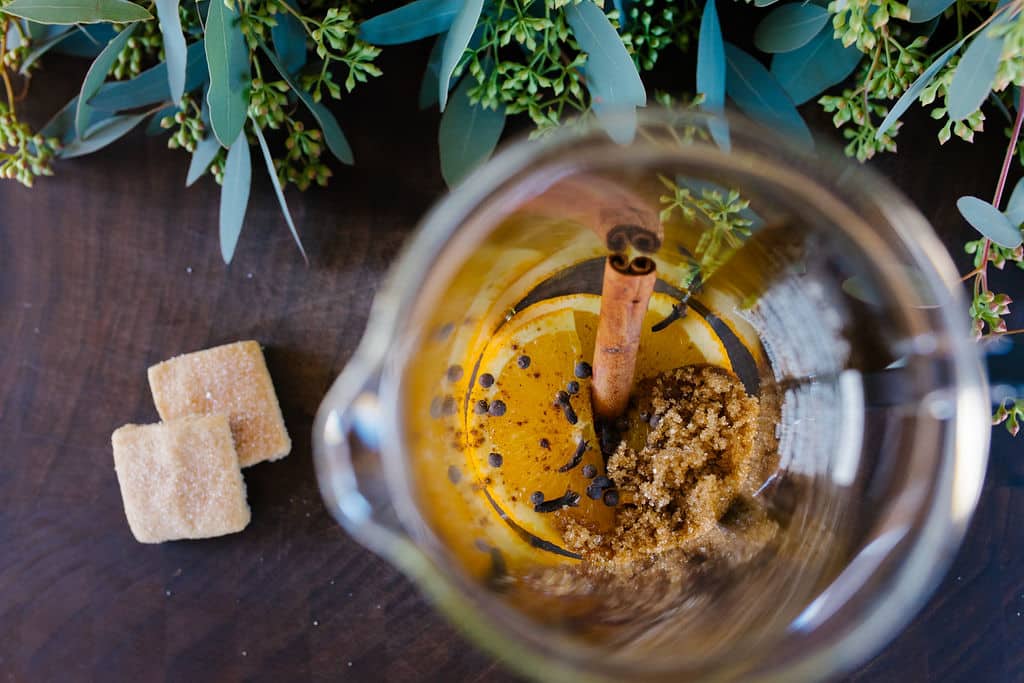 An Ethiopia Yirgacheffe coffee brewed via french press method, then steeped with mulling spices, espresso, and steamed cream.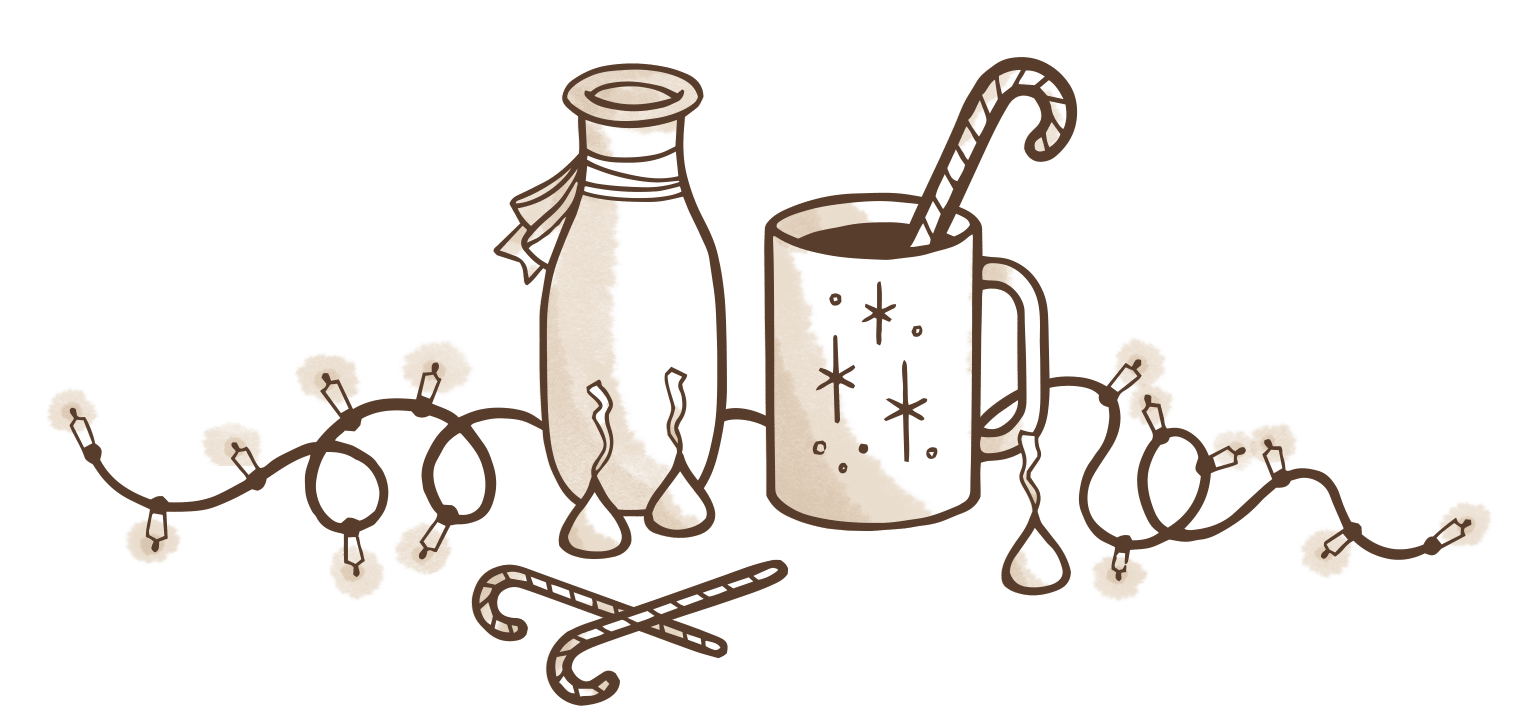 Peppermint Mocha
Paired with Dark Chocolate Biscotti
—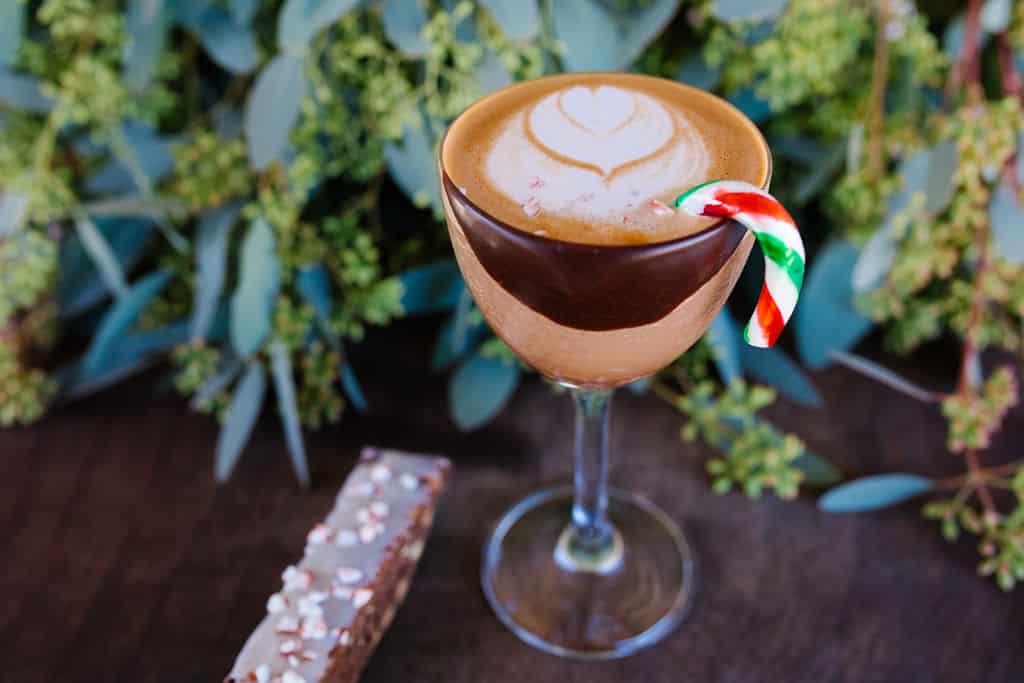 Espresso and chocolate sauce, stirred, then combined with steamed peppermint candy-infused milk and served in a glass with a chocolate apron.
Make Your Own Espresso
Given Benji's love for making coffee, we figured we'd have some home baristas at the party, so we wanted to make sure we were able to sprinkle in some espresso education to anyone who was interested.In addition to serving up specialty drinks, our team had a great time teaching our guests a little bit more about espresso and letting them hop on the machine to make their own espresso and even pour little latte art.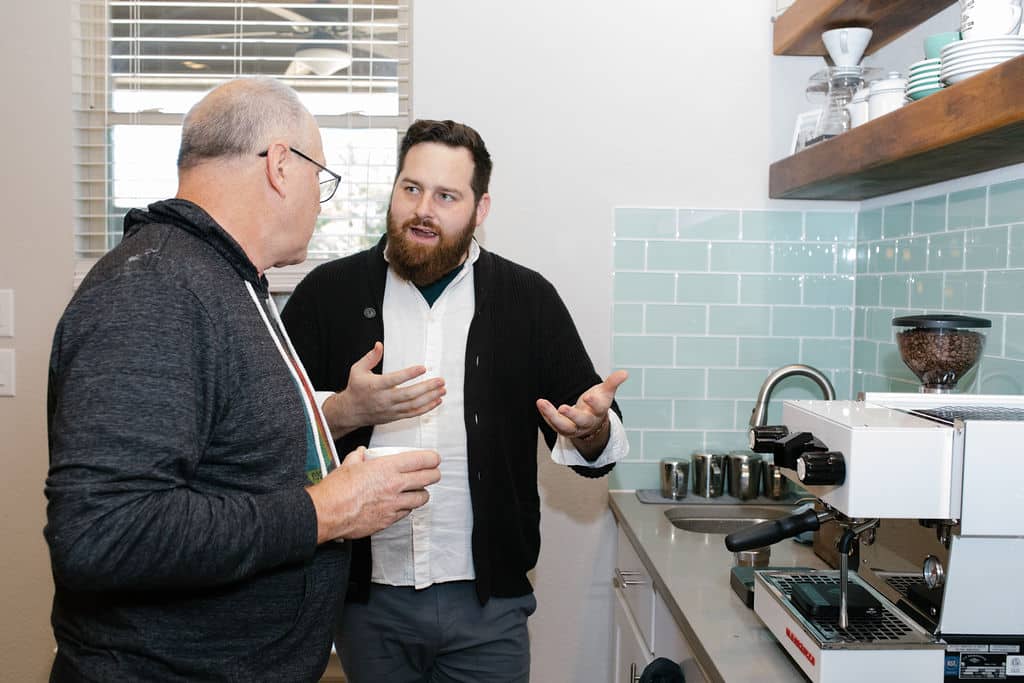 —
Activities at the Party
Considering that we were going to be bringing together a relatively large number of people that might not have yet met each other, as well as entertaining infants and toddlers, we came up with a number of different activities to bond our guests to one another beyond simple small talk.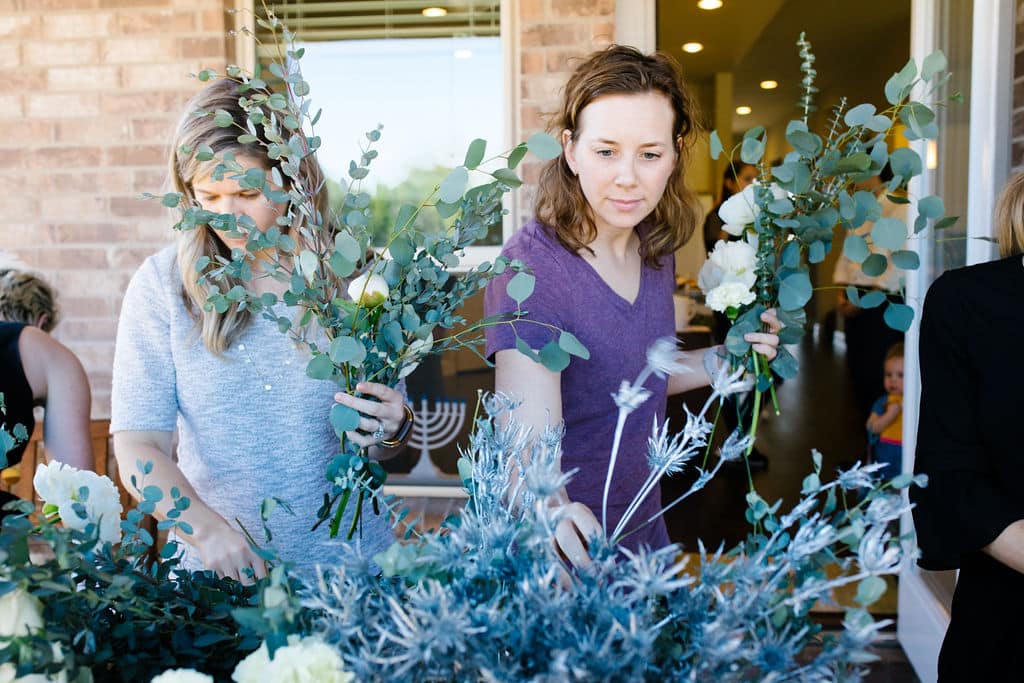 We set up a wreath and bouquet making station on the porch—each guest had a chance to recreate the florals found around the Berger's home to take back to their own. For the children, a baby ball pit with soft felt and foam edges was filled with blue and white balls, creating nonstop baby fun as well as a continuous game of pick up for the grown ups, as every ball pit upset resulted in a mess of balls strewn about the living room.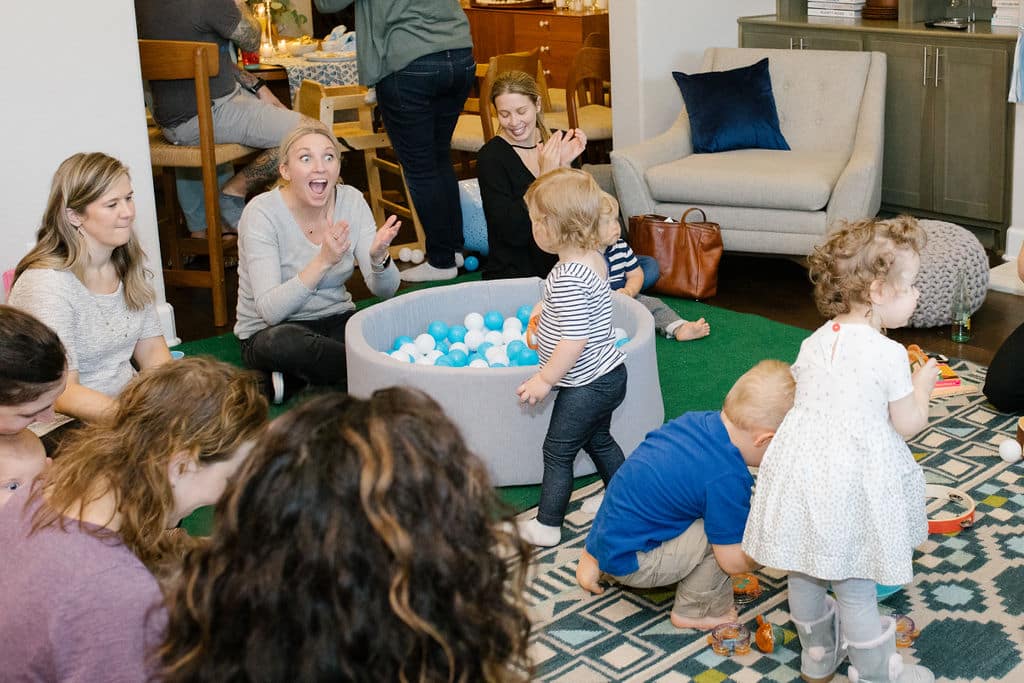 We learned pretty quickly that it's basically impossible to celebrate Hanukkah without playing a round of dreidel and singing the dreidel song, which the Bergers were delighted to teach. Dreidel was originally played when the Jews were persecuted by the ancient Greeks and kept from studying the Torah. So, they used the gambling game as a cover for their studies.
Our guests learned to play and sing dreidel in the midst of a children's storytime and singalong class, led by our very own party planner, Amy Virginia Buchanan. After collectively raising their voices in song and cheer, the party returned to its casual atmosphere of eating, drinking, and hanging out, now with the occasional game of dreidel or, if you were a baby, more ball pit.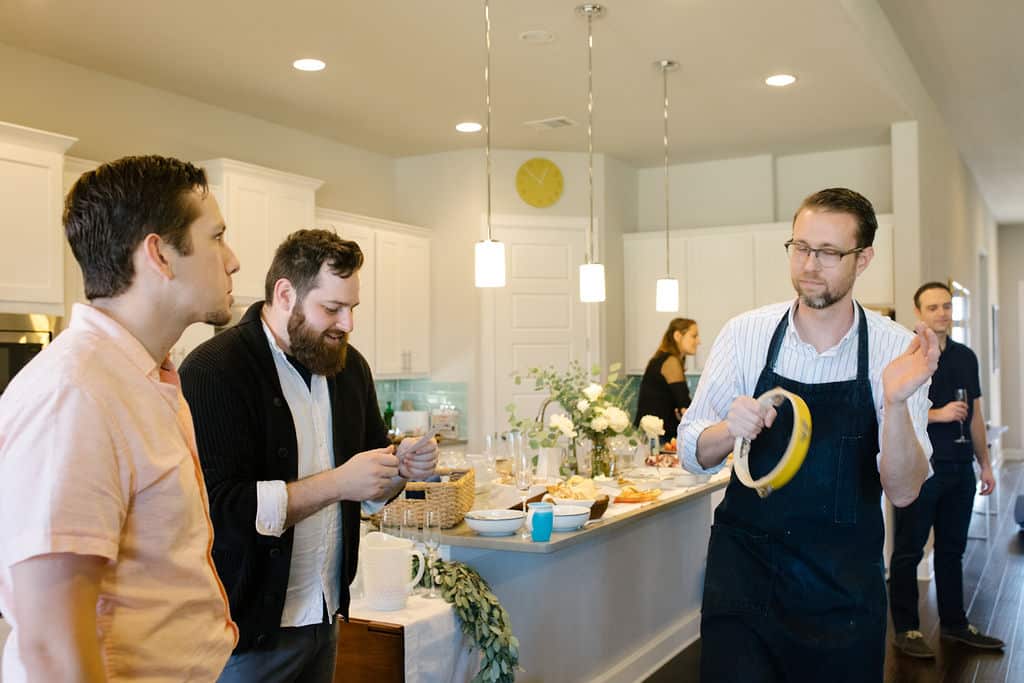 In true come-and-go fashion, some guests were leaving as others were just arriving, which meant that the party was in a constant state of freshness. Espresso continued to flow, latkes were never not frying, and eventually we made it through the entire mimosa bar. We found Jamie and Benji's friends were a reflection of their kindness and generosity of spirit, eager to learn the La Marzocco story and excited to be included in the celebration of Hanukkah.
In Closing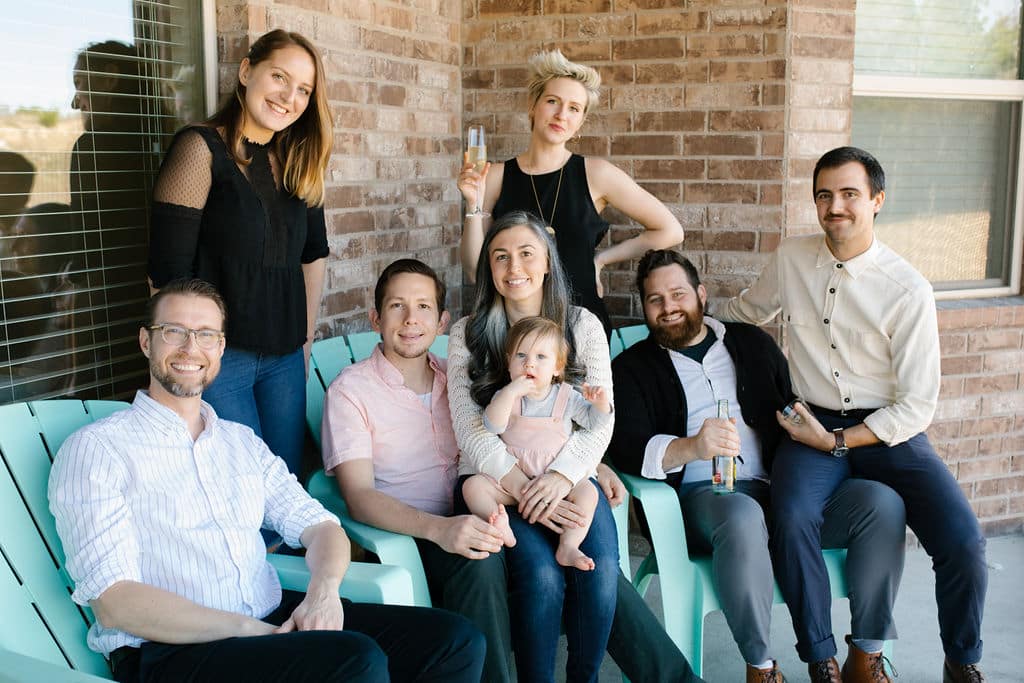 Throwing a holiday espresso party is something we've talked about doing for a long time, and our party in Austin was the perfect way to start. It got us excited about the idea of thousands of home baristas across the country throwing their own parties this holiday season—all centered around the things that mean the most to them.
Holiday Kitchen Takeover was a success in terms of a party, but even moreso because we got to know a member of the home barista community and experience their traditions. Our entire team walked away from the experience feeling not only that we had made new friends, but actually developed a kinship something closer to family.
Coffee has the tendency to do that. It's an optimistic beverage, that's why you drink at the start of your day. It brings a certain type of person to the table and opens our hearts to opportunities that we might not ever have otherwise.
Get all the recipes from Holiday Kitchen Takeover.
---
☕️
Throwing your own espresso party? We want to hear about it! Tag us on Instagram (@lamarzoccohome) and use the hashtag #holidayespressoparty.