Since the Acaia Lunar scale was announced back in April, we've seen an incredible response from around the globe—multiple rounds of pre-orders have sold out on our website, and excited coffee lovers have been anxiously awaiting their scales. Over the last couple of weeks, the scales have been making their way from our warehouse, across the country, and to the doors of those who pre-ordered.
Today, we're excited to announce that Acaia Lunar scales are now out of pre-order status and for sale on our website—if you've been thinking about a new espresso scale, this is a great time to get yours!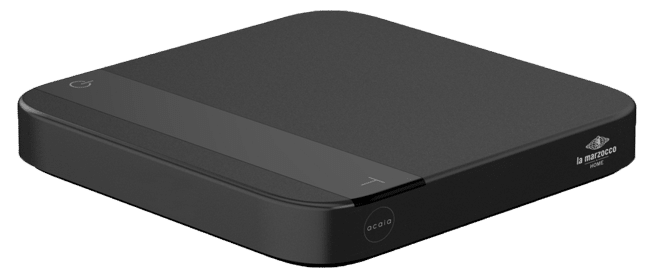 $250.00Select options
More information:
The Lunar scale from Acaia continues in the usability and aesthetic experience of the Acaia scale collections, now represented by a more compact size that fits into the drip tray of the espresso machine, and built with a premium quality clean aluminum body, making the Lunar scale more sophisticated and more durable. The La Marzocco Home Acaia Lunar scale ships with the weighing plate ($30 value) for weighing the portafilter.
Brighter Display
features a brighter display to provide better contrast.
Fast
20ms response time provides ultra-fast response time and instant readings.
Accuracy
highest internal resolution up to one million counts allows for readability up to 10th of a gram. The Acaia Lunar is sensitive to even weight changes resulting from evaporation.
Stability
Auto-Zero tracking and creeping compensation technology to provide industrial grade stability
Built-In Stopwatch
track the blooming, pouring and infusion time without a fuss, with the two-way timer that sync with your mobile phone.
Automated Auto-Off Customization
the Acaia will not shut down during coffee brewing, auto-off feature is also customizable in mobile app.
Rechargeable USB Power Supply
a greener alternative power source, battery lasts 20-30 hrs.
---
Features:
Weight / Timer Dual Display
Water Protection
Durable
Customizable Smart Auto-off
USB Rechargeable
Mobile App CompatibleVisit www.acaia.co to download the acaia app and unlock more features!
Inside the package:
1 Acaia Lunar scale
1 mini-USB cable
1 Acaia calibration weight
1 Acaia portafilter plate
---
Product Name: acaia lunar scale
Model Number: AL001
Warranty: 2-Year limited Content: acaia lunar scale, micro-USB cable, acaia scale weight 100g
Compatible with Bluetooth 4.0 Devices: iPhone 4S iOS7 or later, Android 4.3 +  (Full list: www.acaia.co/manual)
Designed in California, Made in Taiwan
---