Intelligentsia Coffee: May 2019
Everything you need to know about May's Espresso Subscription.
—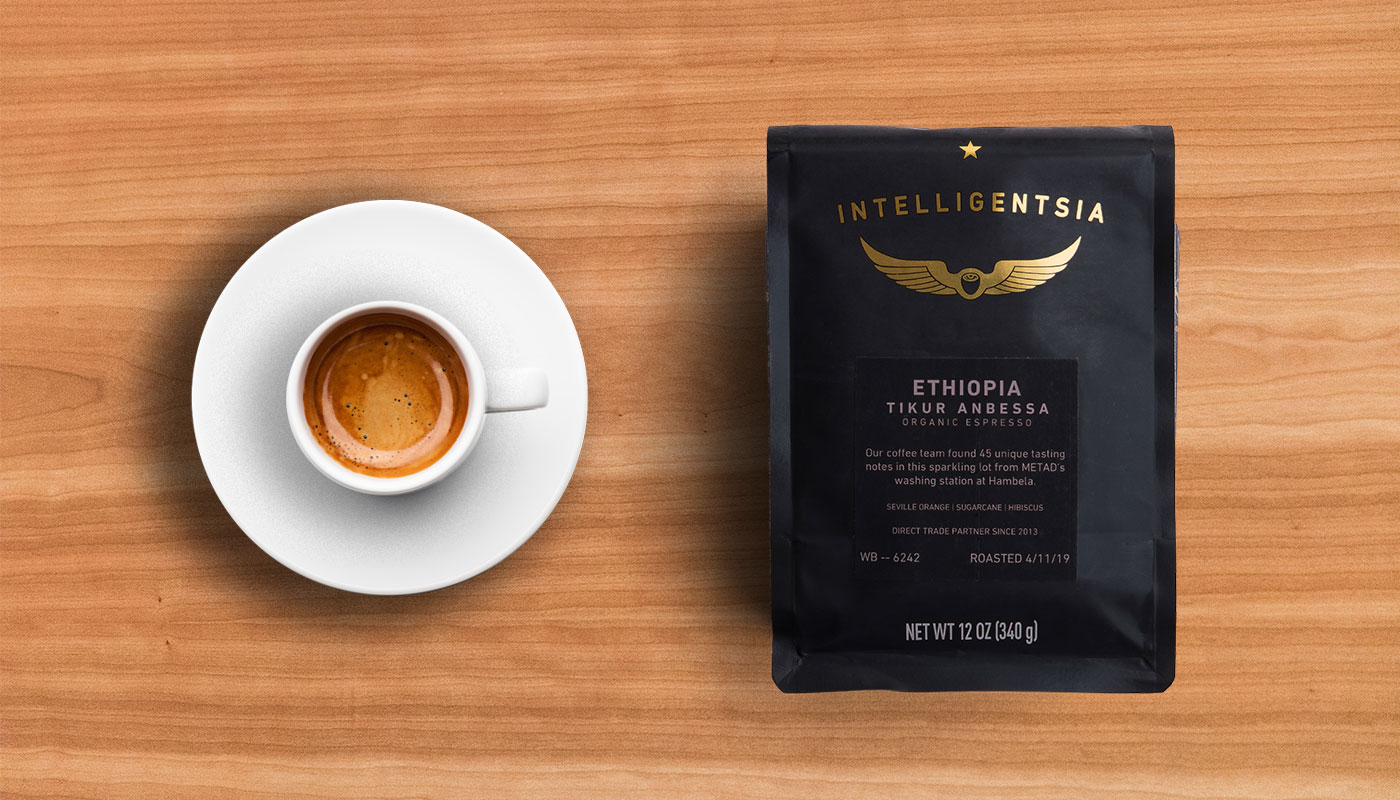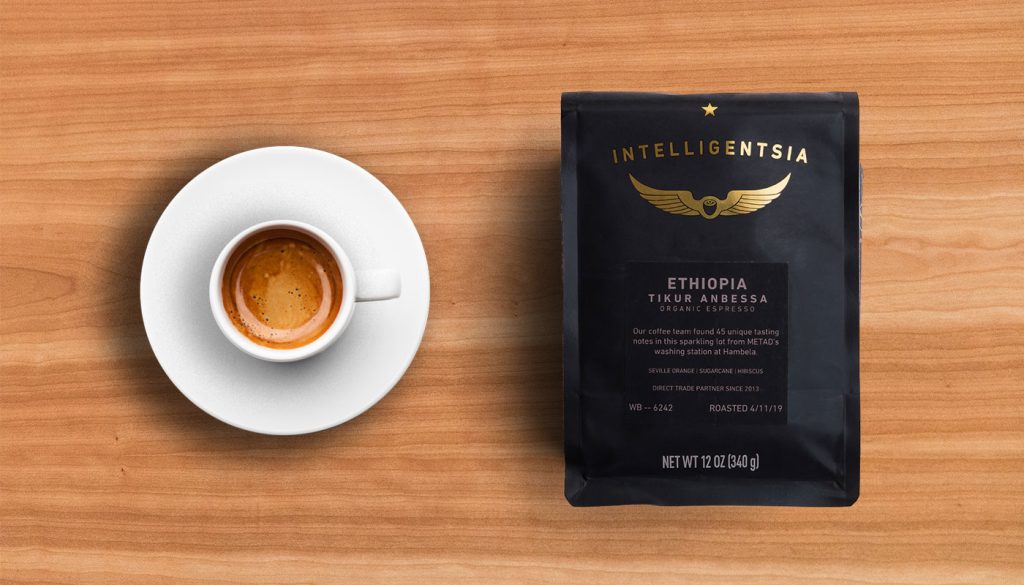 Intelligentsia opened their doors twenty four years ago with a promise to make great tasting coffee. Today, they are considered an industry pioneer with roasting locations in Chicago and Los Angeles. They believe coffee in all its forms—whole bean, brewed, and espresso—should be an approachable, accessible luxury. Their goal is to make coffee a memorable addition to any experience, and to make the act of preparing and enjoying a cup of coffee an experience in and of itself.

Subscribe to the Espresso Subscription by May 1 to receive this coffee.
___
Ethiopia Tikur Anbessa
Origin: Ethiopia
Farm/Farmer/Producer: smallholders and METAD
Elevation: 1850 – 2000 m.a.s.l.
Process: Washed=
Harvest Time: December 2016 – January 2017
Cultivar: Ethiopian heirlooms
___
Tikur Anbessa is a result of the collective efforts of hundreds of individual farmers living in the neighboring communities of Buku and Benti Nenqa who have made the decision to partner with METAD, a family-run operation that was founded with the express goal of improving both income and opportunity for Ethiopian smallholders. The quantity of coffee each these farmers produces individually is very small, on average less than 1,500 pounds per season, but that figure is on the rise as a direct result of METAD's investment in the region.
METAD set out with a plan to produce coffees using the kind of meticulous, detailed approach in post-harvest care that countries in Latin America have pioneered in an effort to make coffees that take full advantage of all of Ethiopia's natural gifts. That effort, naturally, starts at the farm, but it doesn't end there
METAD began a farm project in Hambela nearly five years ago, featuring seedling distribution and farmer training programs to provide growers in the area with the resources they need to get excited about coffee again. The amount of coffee being cultivated has grown steadily, and yields have already begun to improve. This work has helped put Guji on the map, both locally and in the international market. METAD has revitalized a part of the country that had been marginalized for decades, and has already made profound impact on the value of coffees for the entire zone in a short time.
METAD's washing stations are immaculate, and every step of the process, from cherry reception and separation all the way through washing, fermentation and drying, is managed with exceptional rigor.
METAD is betting on quality, and has motivated thousands of local growers to join it. Together, they are reshaping the future of coffee in the region, leading the charge to demonstrate that the right kind of effort combined with a long-term vision, collaborative spirit and an open-hearted commitment to transparency is the recipe for real change. Both the quality of its coffees and the returns it delivers to growers are best-in-class, but the value it is creating goes far beyond any price-per-pound metric. METAD is active in all aspects of community-building, from the construction of roads and clinics and schools to the sponsorship of local sports teams.METAD's own history in coffee begins with an extraordinary woman, Muluemebet Emiru, Ethiopia's first female pilot, who was awarded farmland for her service during WWII. Today, METAD honors its roots by prioritizing women in hiring at its washing stations and investing in cervical cancer prevention programs.
We are excited to be partnered with people who share both our love for coffee, our understanding that exceptional taste is the most effective way to improve the value of coffee, and our conviction that sustained greatness is only possible when the economic benefits from the sale of coffees are shared by everyone involved in the process. From the outset, this project was meant to be ambitious, with a goal of producing some of the most exciting and sustainable coffees on the continent.
Brewing Specs
Cherry, lime and butterscotch

This coffee is complex. The Intelligentsia education team noted FORTY-FIVE different tasting notes from our trials. So if you taste pomegranate, cranberry, or other citrus notes, you are not wrong. We perceived those as well. But the notes we found most consistently were cherry, lime and butterscotch.
In keeping with our lofty standards for Ethiopian coffee, we chose the most powerful icon we could find as the name of this coffee project: Tikur Anbessa, the Black Lion. King of the Forest. Conquering Lion, symbol of the strength of the Ethiopian nation. The Black Lion is unique to Ethiopia, and uniquely beautiful. It represents everything we expect in coffee from Southern Ethiopia.
Recipe: Ethiopia Tikur Anbessa
Ristretto
1:1.5
Viscous, with a heavy, syrupy body. Rounded sweetness and acidity like a chocolate-covered raspberry. Still floral and fruity, even with a smaller ratio. Brewing at 6-bar allowed for a finer grind size and longer time, which we feel helped increased exctraction at this ratio. Dialed in at La Marzocco USA HQ.
In: 19g
Out: 32g
Time: 50 seconds
Pressure: 6 bar
Temperature: 203°F
Pre-Infusion: none
___
Normale
1:3
Medium body, increased clarity. Intelligentsia's Cafe Recipe. This coffee is complex. The Intelligentsia education team noted FORTY-FIVE different tasting notes from our trials. Consistent notes were cherry, lime and butterscotch.
In: 18g
Out: 54g
Time: 41 seconds
Pressure: 9 bar
Temperature: 200°F
Pre-Infusion: none
___
Lungo
1:3+
Allongés-style. Light body & viscosity, loads of clarity. Crispy, sweet and juicy like a freshly- squeezed orange juice. Expect a delicate body and clarity similar to a brewed coffee.
In: 19g
Out: 60g
Time: 28 seconds
Pressure: 6 bar
Temperature: 203-204°F
Pre-Infusion: none
___
Download the Recipe Card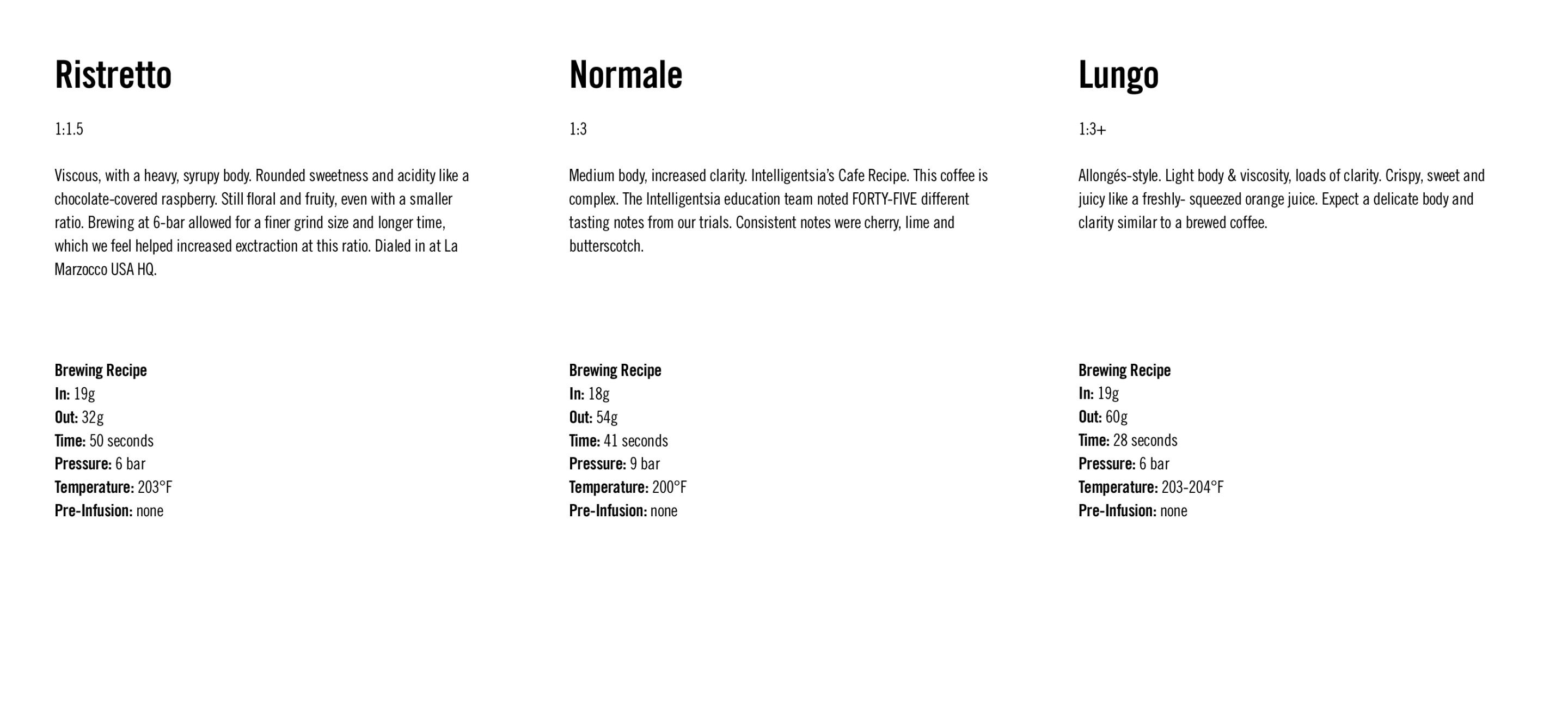 More About Intelligentsia
Website: intelligentsiacoffee.com
Twitter: @intelligentsia
Instagram: @intelligentsiacoffee
☕️

---
The La Marzocco Home Espresso Subscription is designed to help home baristas improve and perfect their craft. Enjoy world class espresso and in-depth advice from some of specialty coffee's most respected roasters delivered to your doorstep each month. Subscribe now for $39/month.