Just in time for the Holidays, we've put together a list of some of our favorite accessories to accompany a home espresso setup. Whether you're a new & aspiring coffee fanatic, or a well-seasoned home barista veteran the items in this gift guide combine both form & function, and would be welcomed in any home espresso workflow.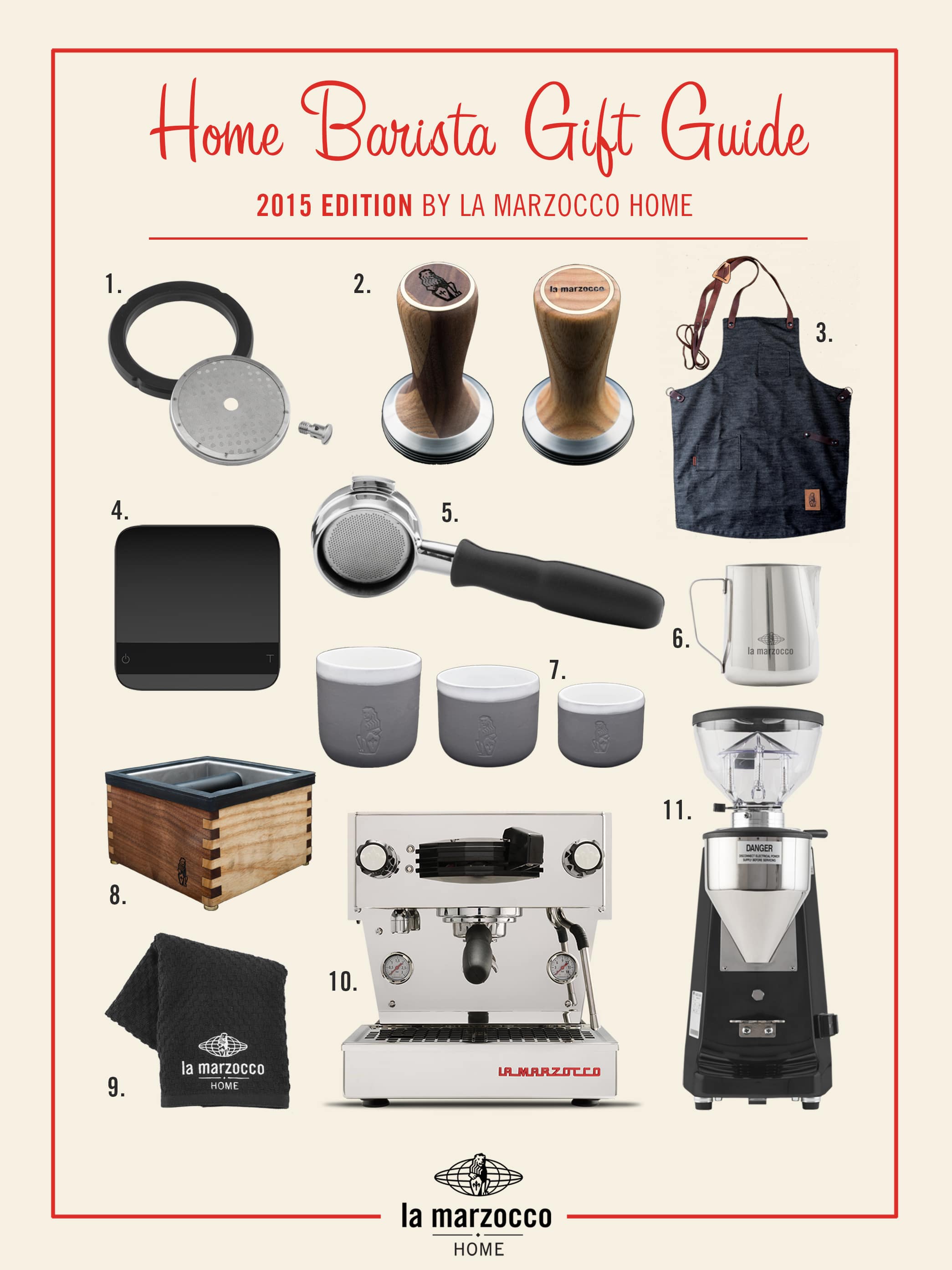 1. Preventative Maintenance Kit ($45): A full year's worth of fresh parts to keep your machine running smoothly.
2. Saint Anthony Industries Custom Wood Tamper ($139): A trio of all-American cherry, walnut & ash woods on the handle are joined with a flat, 58.5 mm stainless steel base to provides maximum comfort and coverage while tamping.
3. Saint Anthony Industries Barista Apron ($110): Keep it clean & tidy with this lightweight denim apron made from the the premium weave of American Cone Denim, from their legendary factory in North Carolina.
4. Acaia Lunar Scale + Portafilter Plate ($250): Weighing is key while brewing espresso. The Lunar is bluetooth-ready, incredibly durable, and precise. The scale fits perfectly onto the drip tray of the espresso machine and is built with a premium quality clean aluminum body. Comes with a magnetic portafilter plate.
5. Bottomless Portafilter ($95): The La Marzocco Bottomless Portafilter fits all La Marzocco Espresso Machines, and allows you to watch the beauty of an espresso extraction from underneath the basket. Get your cameras ready.
6. 12 oz. Steam Pitcher ($29): This La Marzocco branded 12 oz. steam pitcher by Rattleware is made from 18/10 high quality stainless steel. The tapered spout and heavier feel makes this the preferred pitcher to use for making latte art and is a great size for macchiatos and cappuccinos.
7. La Marzocco Handmade Ceramic ($22 – $32): Ceramic and coffee go hand in hand. When you care enough about the quality of your coffee, you also care about the vessel you drink it from. With that in mind, we teamed up with Seattle-based ceramicist Sarah Kaye to bring our dream cups to life. Available in 4 oz, 6 oz, and 10 oz.
8. Saint Anthony Industries Wood Knockbox ($99): Give your boring knockbox a makeover. Made with carefully-finished, finger jointed hardwood and set atop hand-turned brass feet & leather cushions, this knockbox features a combination of Walnut and Ash wood and includes both the surround and knockbox.
9. La Marzocco Home Towels (set of 2) ($25): Towels are an essential part of every barista's workflow. Whether wiping down a portafilter, cleaning off a steam wand, or wiping down the counter, these 100% cotton towels are the perfect addition to your home espresso setup.
10. Linea Mini Home Espresso Machine ($4,495): Inspired by the most iconic La Marzocco machine ever built, the Linea Mini is a kitchen-sized version of the Linea Classic, a machine loved by thousands of professional baristas and the heart of your favorite cafés. The Linea Mini looks as beautiful as it performs, ready to serve for years to come.
11. Lux-D Grinder ($975 – $995): We designed this grinder for the barista at home with a configuration that fits into your ritual. It is sized between the Mazzer Mini and Mazzer Super Jolly and introduces an On Demand Dosing system with 61 mm flat burrs that grind 18 grams of coffee in 10 seconds. Available in White, Black, and Metallic Silver.