Introducing Brew-by-Weight, an exclusive machine & scale collaboration between Acaia and La Marzocco Home that automatically stops your espresso shot. Designed for the Linea Mini, Brew-by-Weight elevates the home espresso experience with machine learning and a predictive drip algorithm for unparalleled precision. Set your dose, engage the paddle, and let the machine and scale do the rest. Featuring auto-tare and auto-time upon turning the paddle.

---
About Brew-by-Weight
Multi-tasking Made Easy
Brew-by-Weight's precision and predictive features fit perfectly with your lifestyle. Step away and return to a perfectly brewed espresso.
Dual Dose Setting via La Marzocco Home App
Customize your espresso style by setting up to two doses or opt for a continuous flow mode, all through the La Marzocco Home app.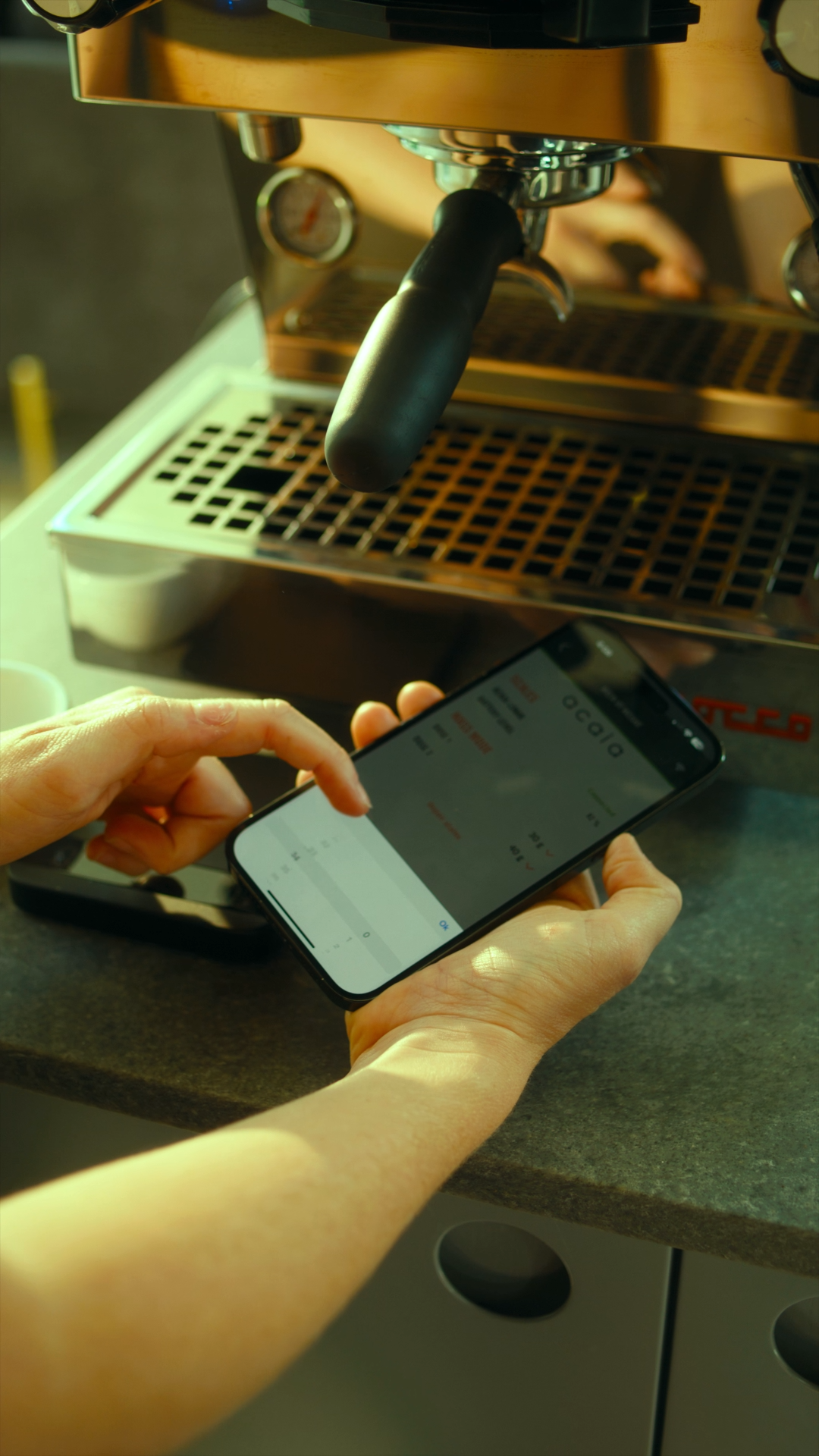 Machine Learning & Predictive Drip Algorithm
Brew-by-Weight's machine learning gets better over time, using a predictive drip algorithm to know when to stop brewing—ensuring you consistently hit your desired weight.
Auto-Tare and Timer
Engage the paddle, and the scale auto-tares and begins timing automatically, streamlining the brewing process.
Seamless Compatibility
Designed to integrate seamlessly with any Connected Linea Mini, making every espresso shot perfect.
---
Other Features:
Resilience: The scale and machine will ignore anomalous scale readings such as setting cups down or touching the scale during the brewing process.
Water-Resistant: Built to handle spills, ensuring durability in any coffee setting.
Fast & Stable Readings: Get precise measurements quickly with a resolution of 0.1g.
Built-in Timer: Monitor your brew duration for consistent results every time.
Rechargeable Battery: A USB-C rechargeable battery ensures long-lasting use.
Durable Aluminum Body: A premium build that's as stylish as it is sturdy.
---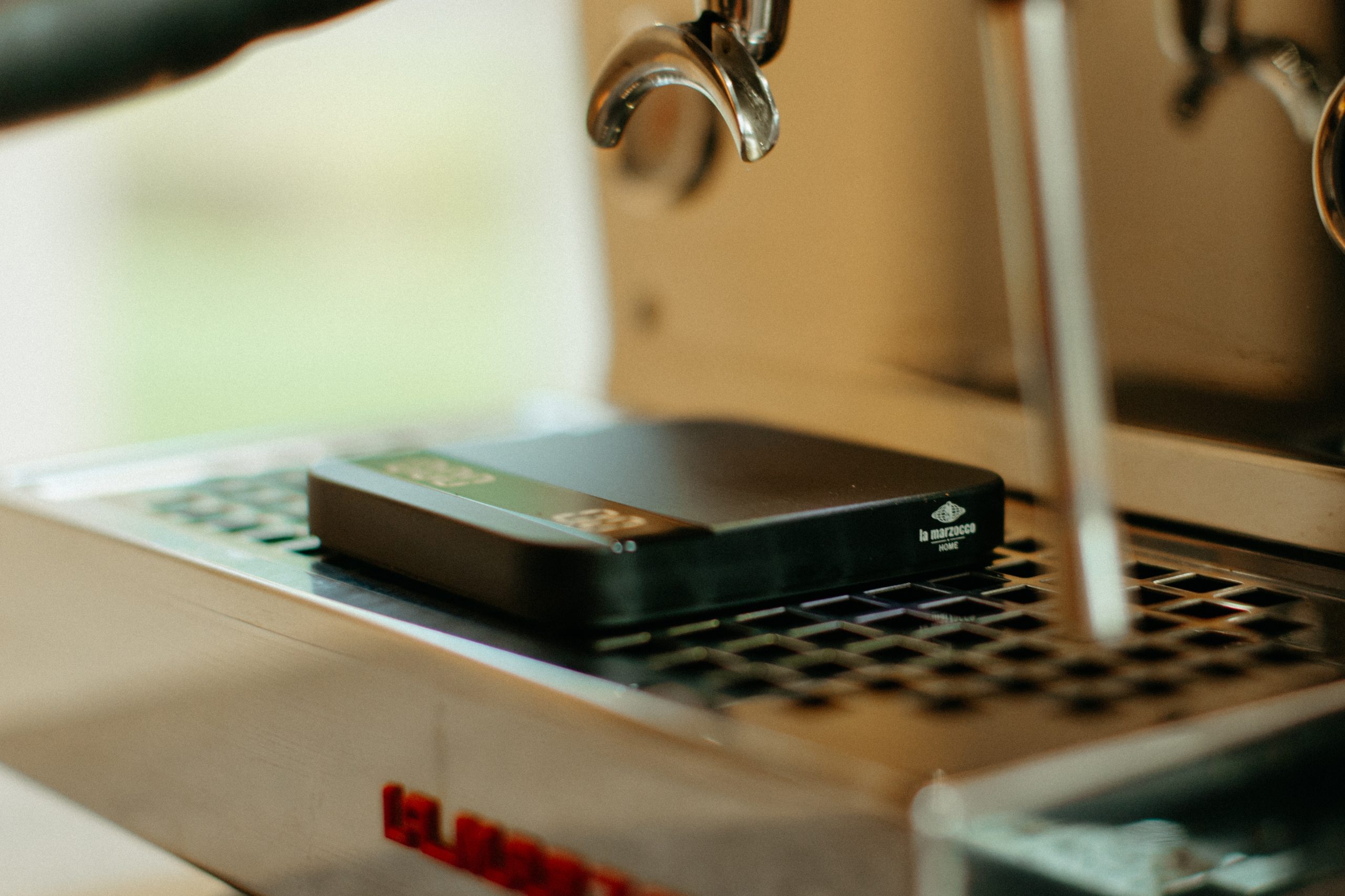 ---
Compatibility Note for Linea Mini Owners—
Brew-by-Weight is a La Marzocco product designed and managed specifically for use alongside the Linea Mini. Renowned scale-maker Acaia provided the technical support for integration at the design stage as well as the scale technology. Please note that Acaia's existing products like the Lunar and Lunar 2021, which have their own firmware, the Brew-By-Weight Scale uses specific La Marzocco-developed firmware. This means that the pathways are different, and standard Acaia scales are not compatible with the Linea Mini.
In preparation for Brew-by-Weight functionality, Linea Mini owners must update their machine's firmware via the La Marzocco Home App to the latest firmware available as of October 12th. Additional compatibility checks are necessary. To simplify the process, you can check your Linea Mini's compatibility with Brew-by-Weight by inputting your serial number using our Brew-by-Weight Check tool.
---
Here's what you need to know:
For Linea Mini Owners with Updated Firmware:
If your machine is already connected and updated to the latest firmware version (v1.0rc7 or greater), your Linea Mini is fully compatible with Brew-by-Weight. All you will need to enjoy this feature is the Brew-by-Weight Lunar Scale.
For Linea Mini Owners with Connected IoT Board, but outdated Firmware:
If your Linea Mini has an IoT board but hasn't received a firmware update (e.g., "v1.0rc3"), you'll require a combination of the Linea Mini Lunar Scale and a Gateway. Please note that this installation may necessitate the assistance of a technician. This scenario is most likely if you purchased a Linea Mini that was connected capable, but you have never connected it via the App.
For Linea Mini Owners without an IoT Board:
If your Linea Mini is not connected capable, and you have not upgraded to an IoT board, you will need the Brew-by-Weight Lunar Scale and a full IoT kit.
---
Please ensure you meet these compatibility requirements before purchasing to fully enjoy the benefits of Brew-by-Weight. If you have questions, please don't hesitate to reach out to homesolutions.usa@lamarzocco.com.