Five Elephant: December 2019
Finca Mahajual Orange Bourbon—El Salvador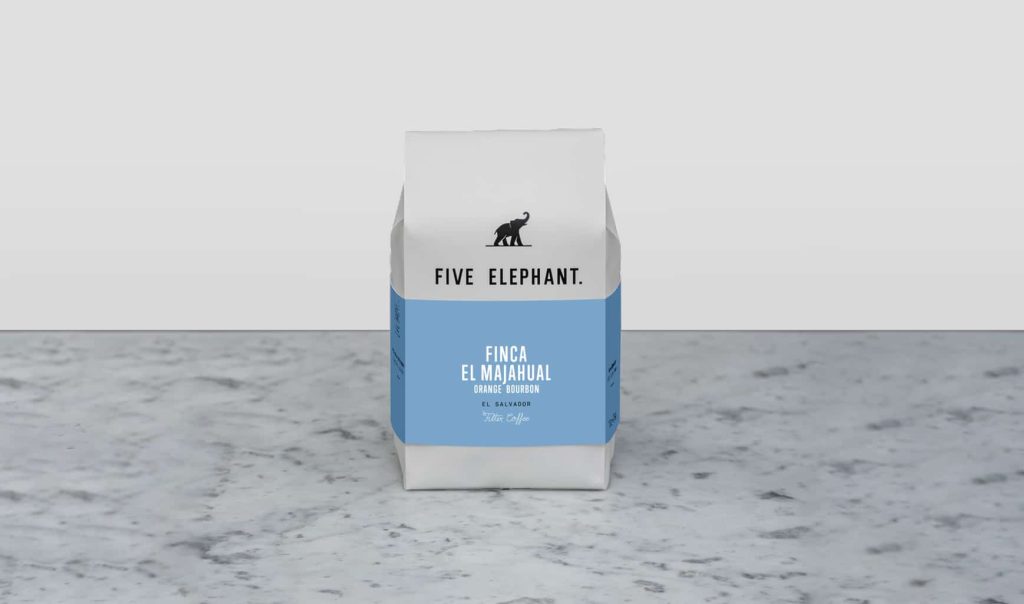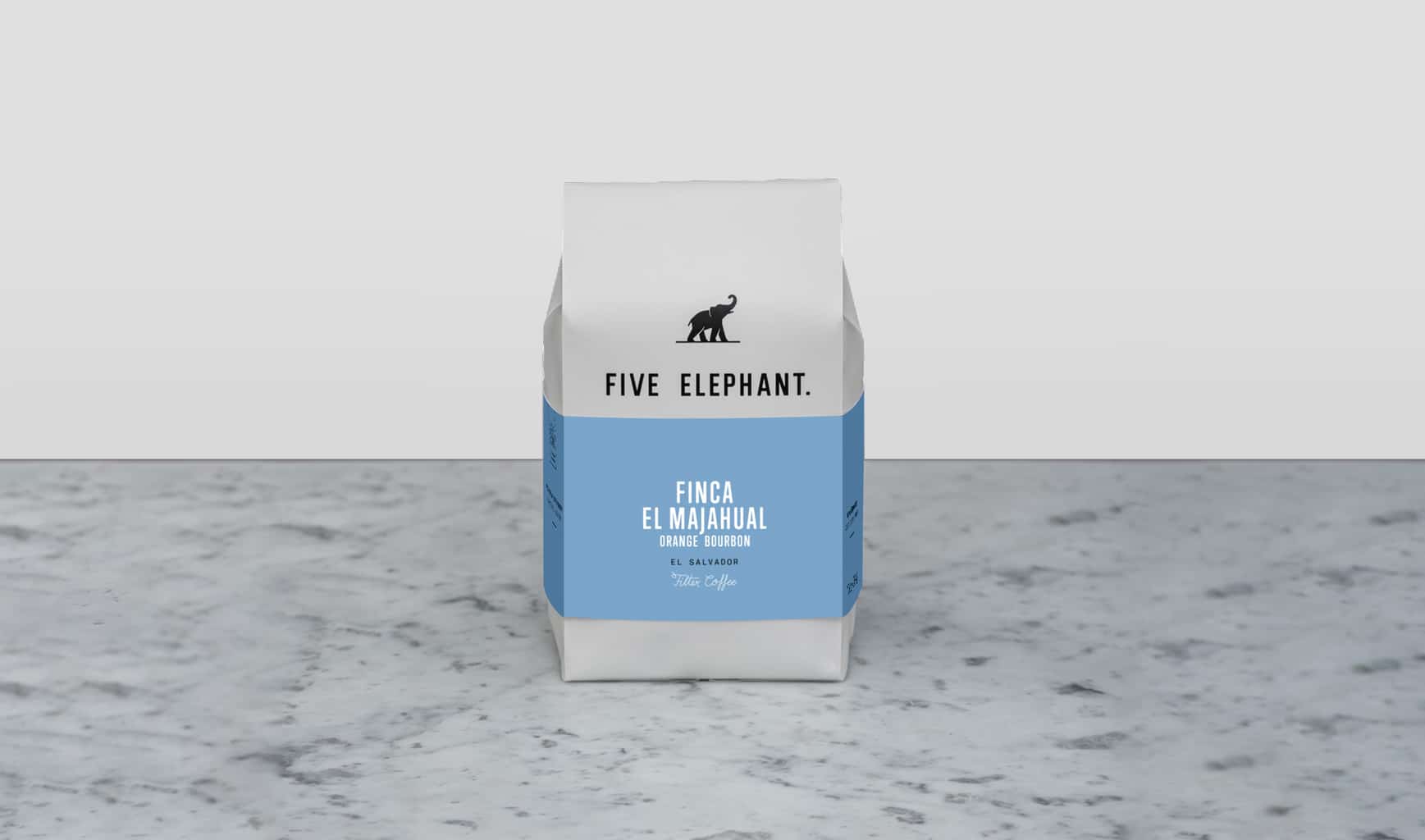 Five Elephant is a specialty coffee roastery, bakery and cafe in Berlin, Germany. Passionate about quality, our goal is to source the best coffees in the world in a way that is mindful of our environmental impact and thoughtful of the social impact of the communities who produce our coffees.
We strive to involve our customers in a conversation about coffee and are committed to sourcing the green beans that we roast in the most direct way possible.
Transparency is at the core of our values and we think there should be a clear understanding of the journey that coffee takes from the farm to your cup. Through this openness, we hope to create sustainable partnerships with farms from year to year.
We don't just visit our partners at origin but work to understand their processes, from cultivation to preparation. We are committed to innovation and will never stop working to improve the coffee that we source and roast, including our relationship with the farmers who grow the coffee.
Our belief is that by opening up this coffee conversation, we can share some great coffee in a way we can be proud of.
—
About Finca El Majahual
Finca El Majahual, originally called Los Naranjos, was founded in 1936 in the Los Naranjos Valley located in Sonsonate, El Salvador, where moderate weather and an ideal altitude combine to provide ideal growing conditions for cultivating coffees.
Finca El Majahual is not just another coffee farm. It's an economic and social project, a business that's focused not only on growing the best coffee possible, but also growing the people and the community surrounding the farm. To Patrick Murray and his sister Christina, who in recent years took back management of the farm that their great-grandfather founded in 1936, investing and cultivating the well-being of their staff and the environment, is a guiding principle and a way of life. Our close relationship with Patrick, and our visits to Finca El Majahaul, allowed us to witness firsthand how this approach created a better, more sustainable coffee growing environment, represented by wonderful coffees such as Red Bourbon.
Don Rafael Meza-Ayau Sr., who owned and operated the farm, turned it into a successful exporter of beans to the European market. For several decades, the coffees from Majahual were renowned for their excellent cupping quality, body, and flavors.
Eventually, Finca Majahual was handed down to Don Rafael ́s grandson, Roberto H. Murray-Meza, who has since maintained a strong commitment to upholding the farm's excellent reputation in the coffee industry, consistently cultivating excellent coffees. In addition, Roberto has dedicated significant efforts over the years to improve the farmworkers' social wellbeing, by funding projects such as the on-site Clinica San Rafael, which provides medical assistance to farmers; the Centro Escolar La Cumbre, which provides education to the farmers' children; and building community spaces for farmers, their families and the neighboring community members.
The farm has been managed by the last several years by Patrick Murray and his sister Christina, who follow their father's vision and footsteps by growing high-quality coffee cherries while nurturing their community. The Murray-Meza family's efforts to give back to their community, as well as their efforts to protect the environment, have been recognized and certified by the Rainforest Alliance organization, which gave Finca Majahual a perfect score.
Most of the farm's coffees are of the Bourbon variety, like this one, and they are all grown under shade. This particular lot is a great representation of the fantastic coffees that the Murray-Mezza family has produced over the last decades: it is full of delicate cocoa and almond flavors, with a full body and a delicate, rosehip-like acidity.
Coffee Specs
Origin: El Salvador
Farm: Finca El Majahual
Producer: Roberto H. Murray Meza with Patrick Murray
Region: Los Naranjos Valley, Sonsonate
Elevation: 1.350–1.700 masl
Process: Washed
Varietals: Orange Bourbon
Tasting Notes: Cocoa, almond and rose hip.
—
Espresso Recipe
Normale – 1:2 – 1:2.4
In: 18g
Out: 40 – 48g
Time: 25 – 31 seconds (harder water = less time)
Pressure: 9 bars
Temperature: 200.3 – 203.9 F
TDS: 8.5 – 10
Extraction %: 19-21
Five Elephant Methodology        

Start with a dose suitable for your basket size (we recommend a 18g basket).
Tare your portafilter on a scale with 0.1 accuracy
Grind coffee into your portafilter
Check the dry weight of your coffee, you should aim for an exact weight to match your basket size
If you have to much coffee use a clean spoon to meet the desire weight
If the amount is less than desired, add more
Distribute your coffee by hitting your portafilter gently twice or use distribution tool
Tamp your coffee with the right size tamper as even as possible
Flush your group head just before pulling shot
Lock your portafilter and start your extraction (start a timer if your machine doesn't have one)
Put cups onto your scale and tare to zero
Aim for desired yield (with a 18g dose, our range is 40-48g of beverage)
---
☕️
—