Denver Coffee Tour: Tasting the Evolution of Colorado's Coffee Scene
From eye-catching cafes to high-altitude roasters, a new generation of innovators and entrepreneurs are aiming to make Colorado a national leader in coffee.
___
Words by Carly DeFilippo & Photography by Lauren DeFilippo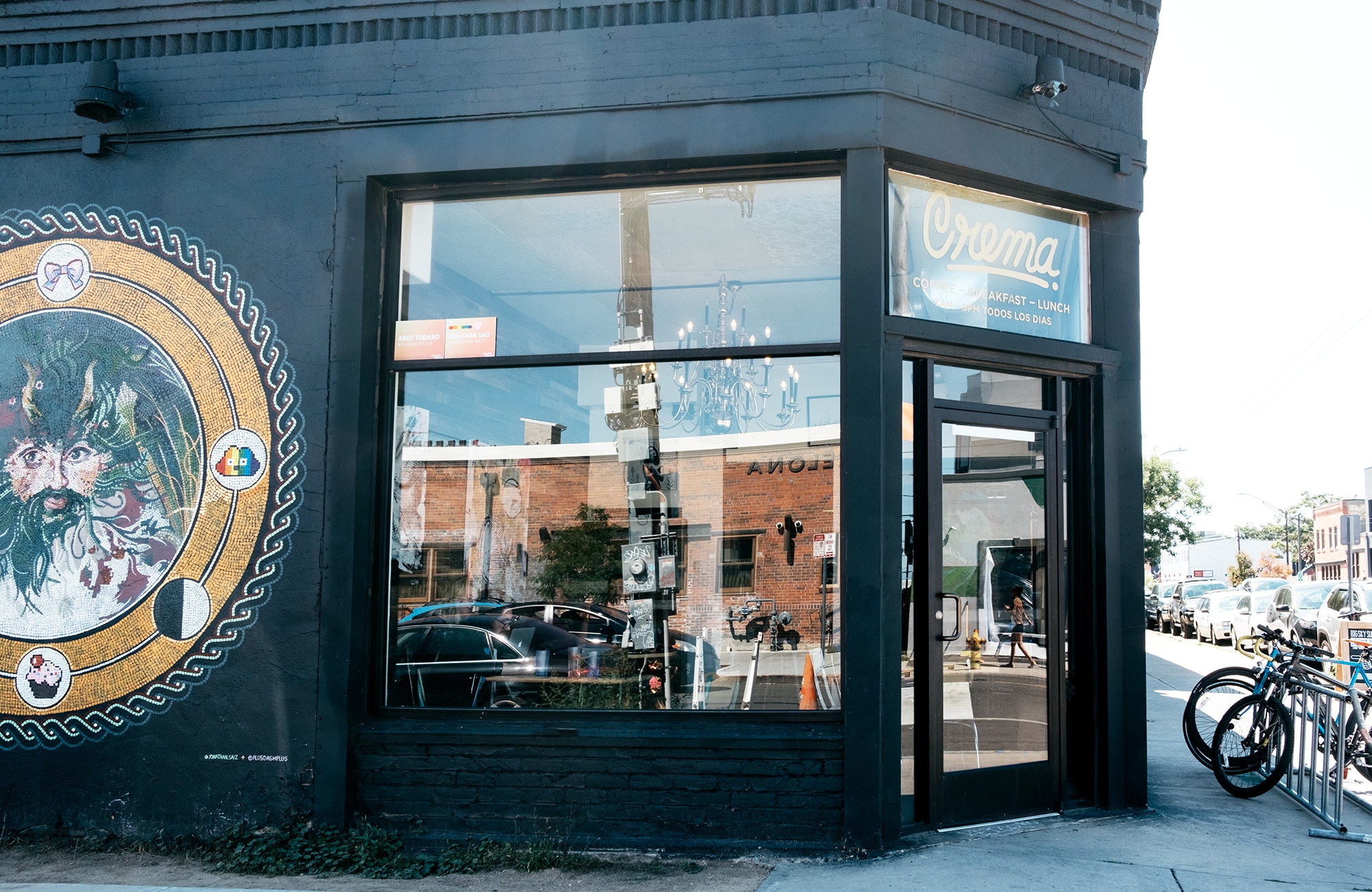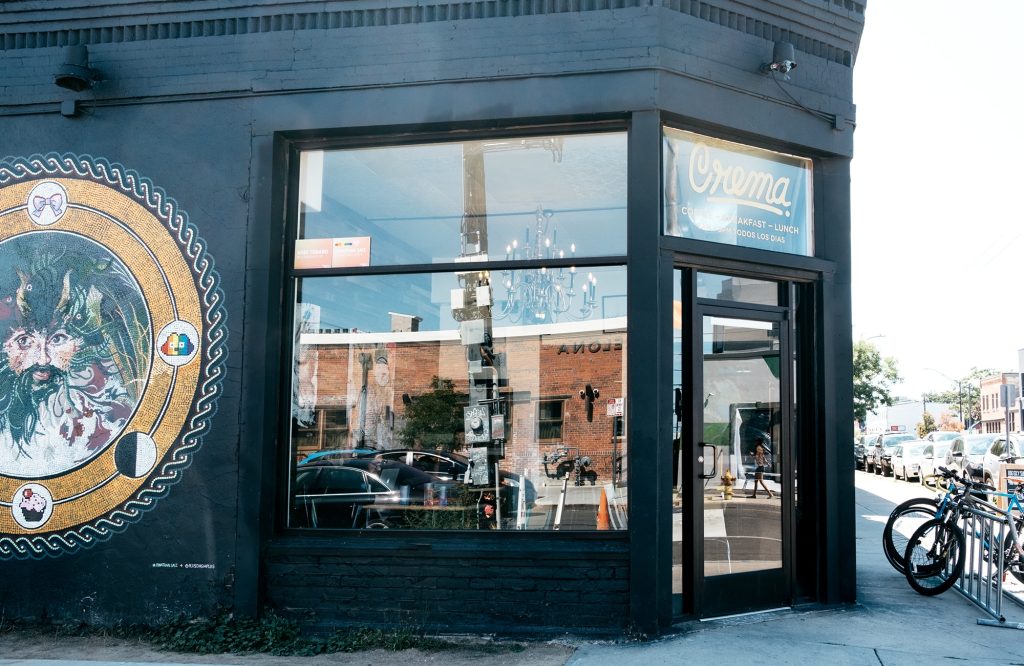 With a supposed "300 days of sunshine" and easy access to the mountains, you might think that Denverites simply jump out of bed in the morning—no coffee required. But as anyone who has recently visited the Mile High City can attest, this increasingly cosmopolitan capital is becoming a respected destination for more than just winter sports.
With some of the best craft beer in the country, James Beard award-winning cocktail bars and restaurants that rank in Bon Appetit's "Hot 10", Denver's rapidly growing culinary scene is becoming one of the most compelling reasons to book a trip to Colorado. This explosion of noteworthy food and drink reflects the city's evolution on a larger scale, as Denver repeatedly ranks among the fastest-growing big cities—and economies—in America.
The city's coffee scene has also kept pace with the city's growing population of creatives and entrepreneurs—with many of the most noteworthy shops opening in just the past five years. So if you haven't visited Denver since the early aughts—or at least stopped through on your way to the ski slopes—here are six shops that illustrate the evolution of the city's coffee culture:
The Pioneers | Aviano Coffee, Cherry Creek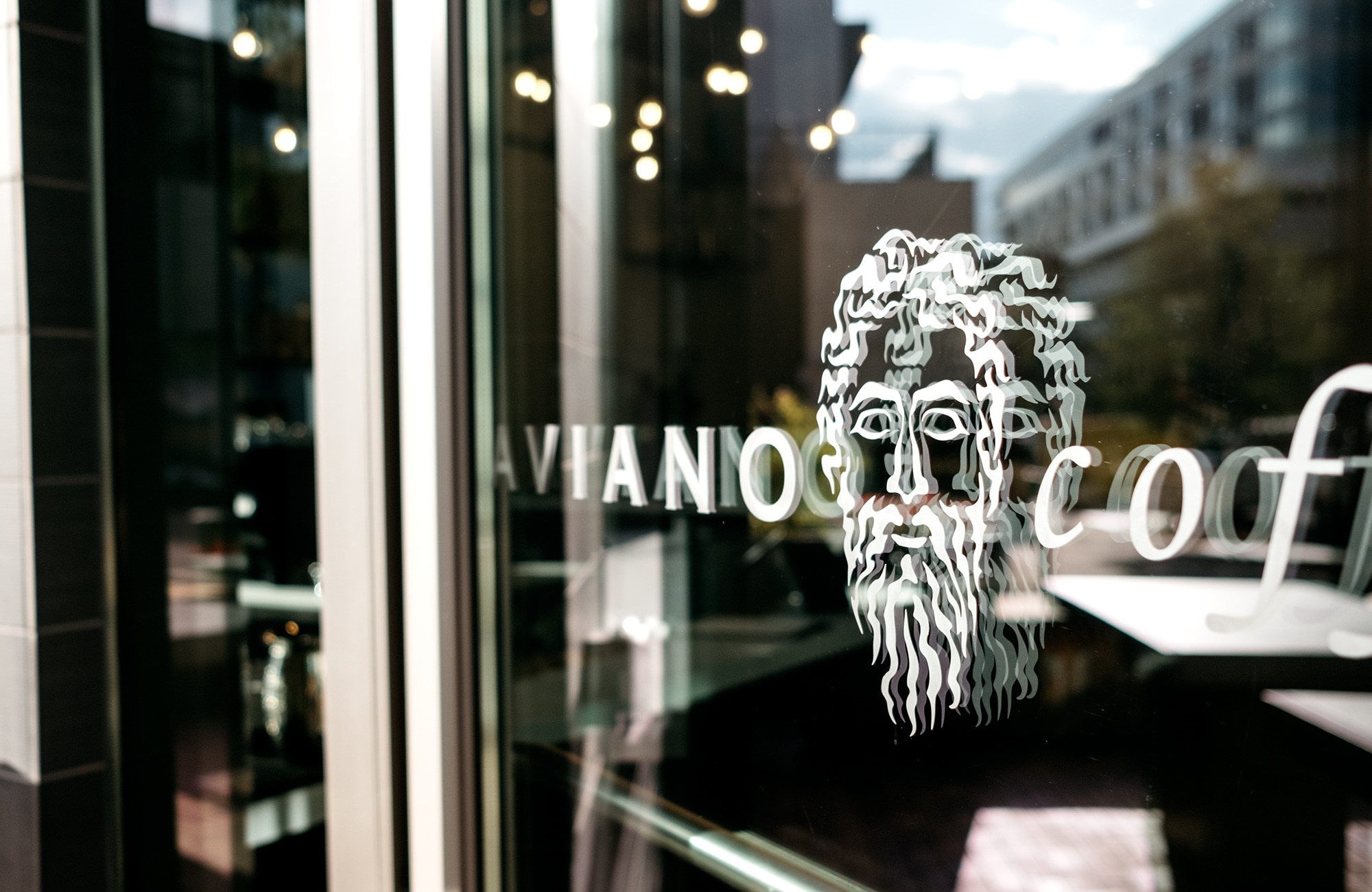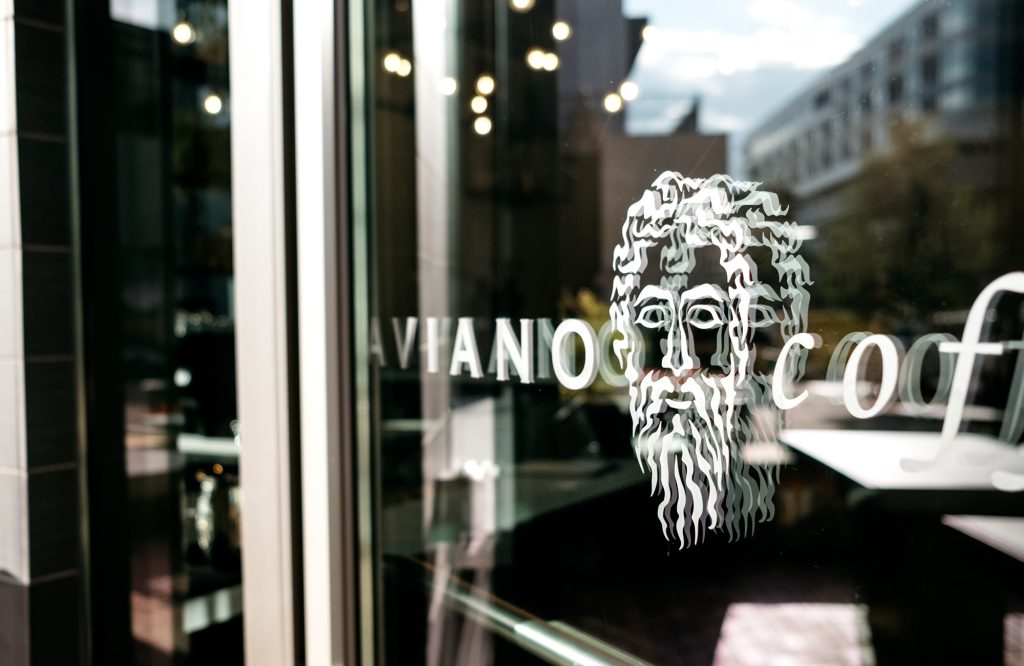 In the era before Aviano, owner Doug Naiman describes Denver's independent coffee shops as "looking a little something like 'Central Perk' from Friends." When he launched his first location in 2006, Aviano quickly became one of the first true third wave shops in the city, as Doug and his future business partner (and wife), Saadia Naiman, hired a coffee expert from the Portland, Oregon scene to lead their brewing and staff training programs. Soon enough, the shop was hosting regional "throwdowns," often with their own baristas winning top honors. Aviano was also among the first Colorado shops to focus on quality sourcing, serving Intelligentsia beans and charging market price. Today, their two Cherry Creek locations boast stadium-style seating and the coffee lab equivalent of an open kitchen—ensuring a conversation about (and, literally, around) coffee remains at the center of the Aviano experience.

https://avianocoffee.com/
224 Detroit Street | 215 St. Paul Street
The Renegades | Crema Coffee House + Bodega, RiNo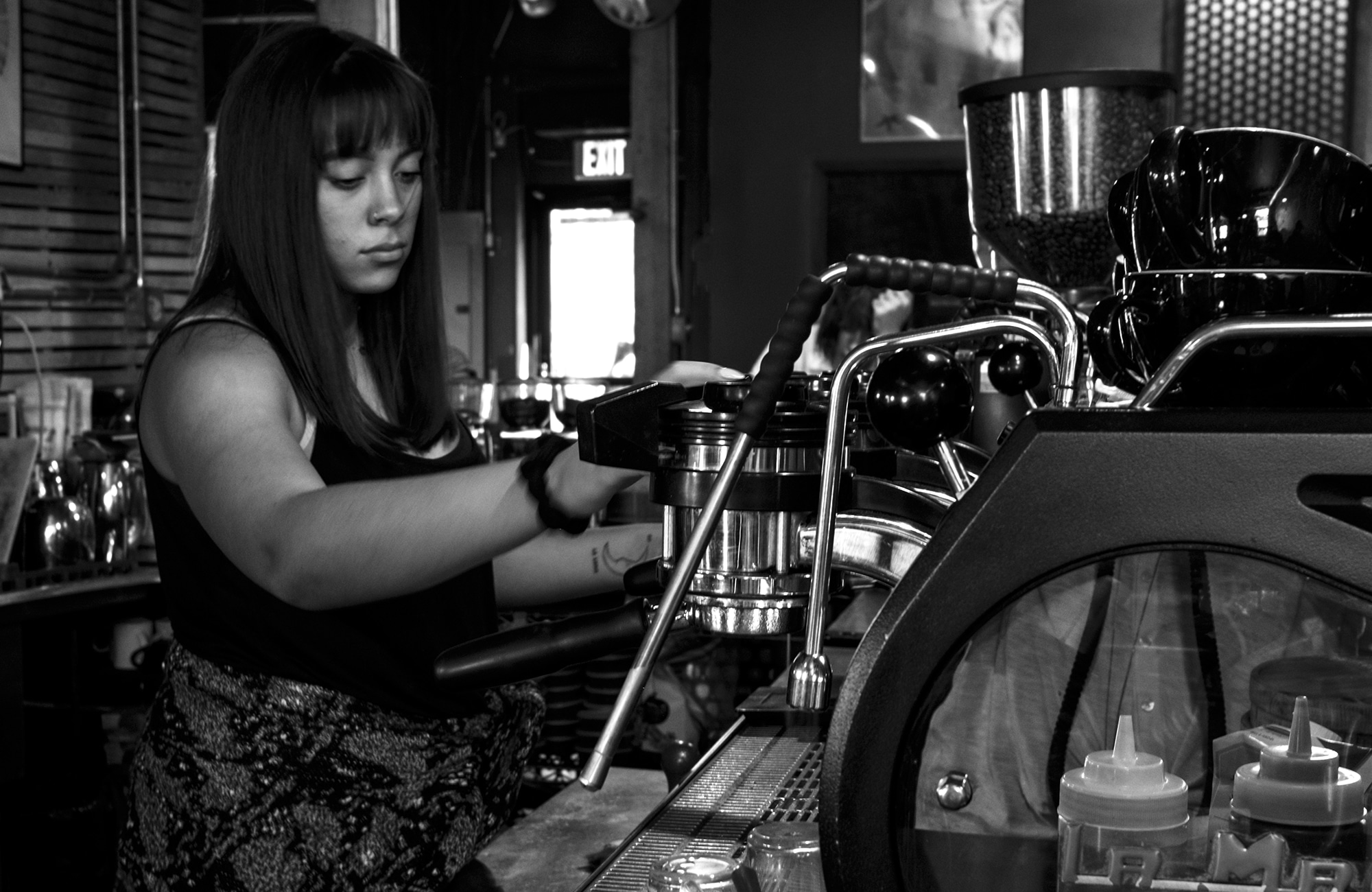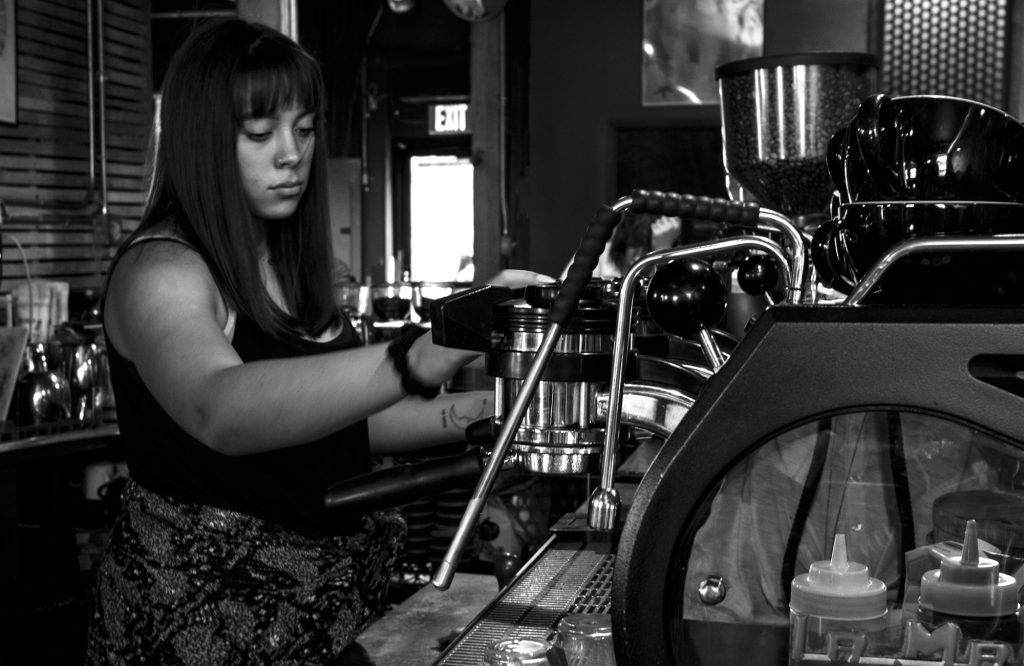 When Noah Price opened Crema in 2009, the River North Art District (RiNo) was a largely undeveloped strip of warehouses transformed into artists' lofts. The shop's original square footage was minimal—and so was the overhead—but this caffeinated oasis quickly became a stronghold for the community, expanding into a larger space on the neighborhood's main drag (as well as a second "Crema Bodega" location inside Denver Central Market). Ten years later, RiNo has transformed into one of the city's trendiest residential and commercial districts, yet Crema has never abandoned its roots. That foundational—even symbiotic—relationship with local artists continues to define the coffee house's vibe, literally adorning the walls (inside and out). And as far as the coffee—Crema's regular rotation of celebrated roasters continues to distinguish the shop as a key training and tasting lab for baristas and coffee enthusiasts, allowing them to experience a wide range of brewing profiles.

http://cremacoffeehouse.net/
2862 Larimer Street | 2660 Larimer Street
The Local Darling | Huckleberry Roasters, Sunnyside + Dairy Block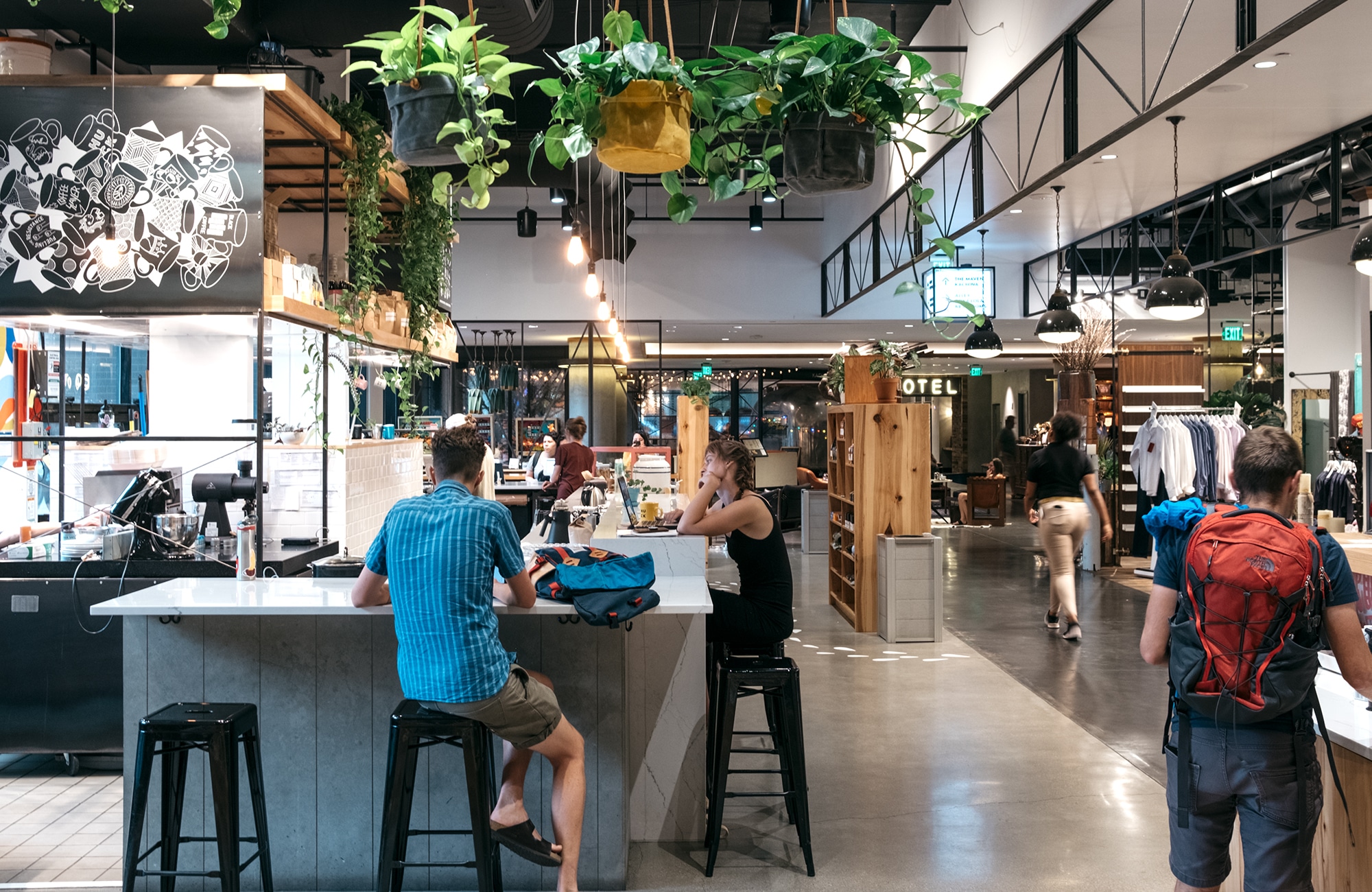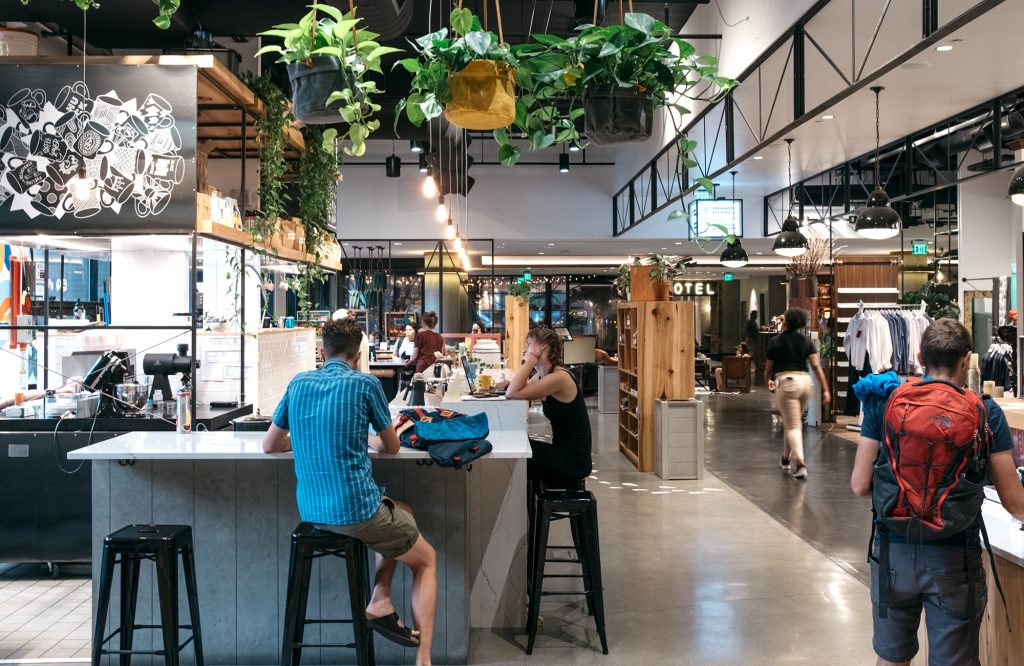 With some of the most eye-catching packaging design in Denver—and excellent beans to match—Huckleberry Roasters has become an essential staple in Colorado's local coffee scene. Started in 2011 by Koan Goedman and Mark Mann as a mere side-hustle (see: roasted in a garage and delivered by bike), the company grew into a full-fledged Sunnyside roastery just a few years later. Most recently, in 2018, the brand opened a location in the redeveloped Dairy Block, occupying what might be the most glamorous "coffice" in all of downtown. Fully embracing third wave values, Huckleberry strives to partner with smaller growers, balancing cupping scores with an ethical supply chain. The cafe also prides itself on serving a wide range of customers—from coffee traditionalists to light roast enthusiasts. As Goedman puts it, "If you start with a smile and approachability, seven out of ten customers will be down to [eventually] get weird with you."

https://huckleberryroasters.com/
4301 Pecos Street | 1800 Wazee Street
The Downtown Destination | Little Owl Coffee Roasters, LoDo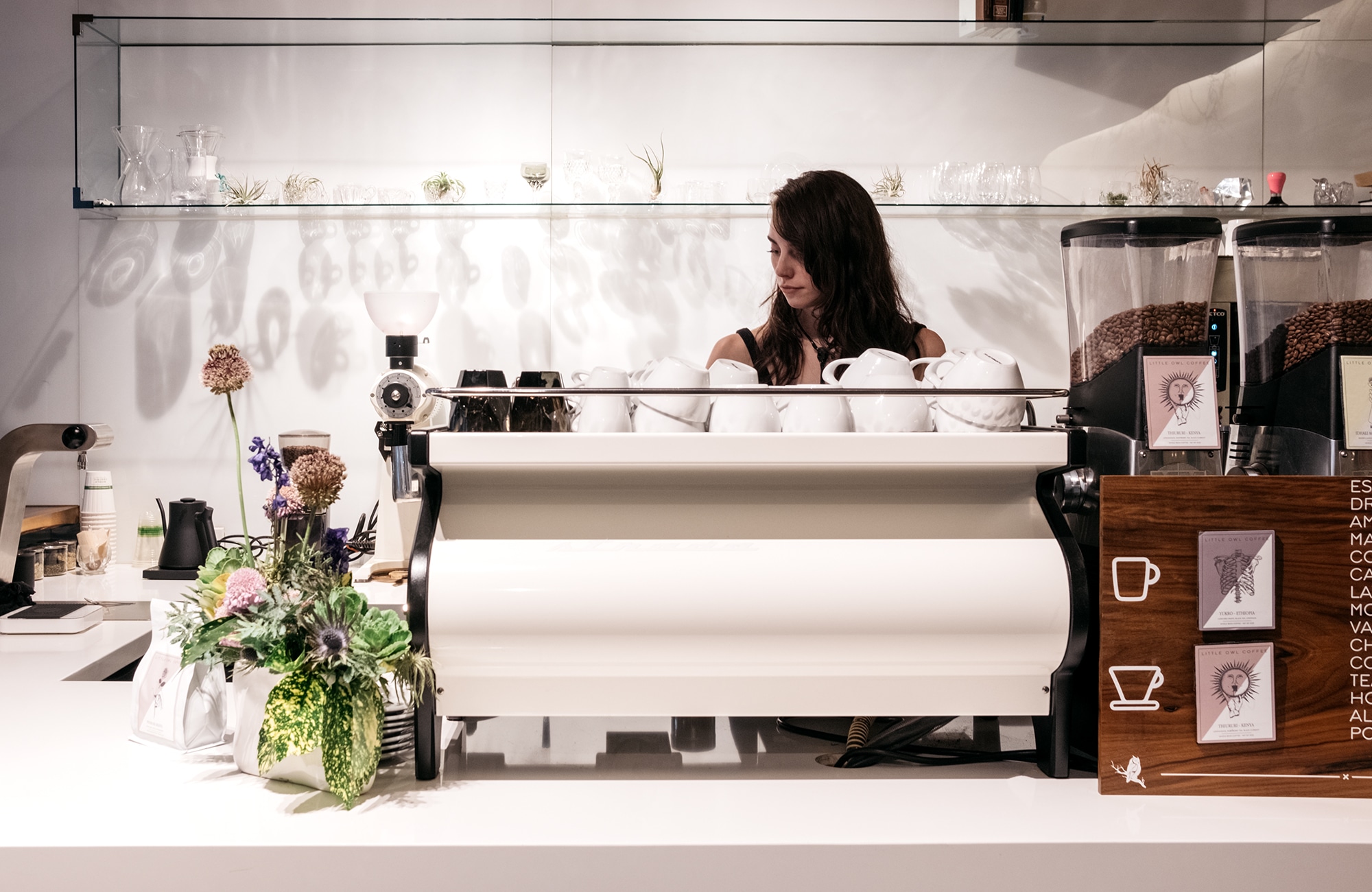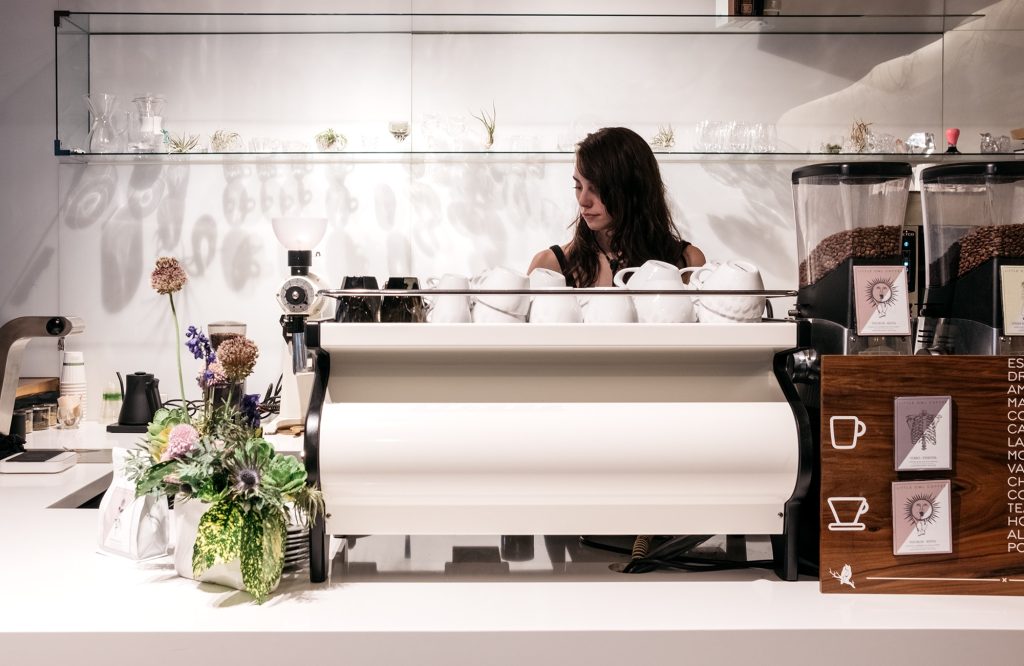 Located on the ground floor of one of Denver's most luxurious apartment buildings, Little Owl has had to pull its weight (and top notch shots) since day one. Founded in 2013 by former real estate professional Seanna Forey, the Lower Downtown (LoDo) location features a see-and-be-seen outdoor patio, a sleek interior adorned with white marble and natural wood surfaces, and a curvy black-and-white Strada MP. In addition to drinks crafted by some of the city's best baristas, guests also enjoy particularly stylish service—from fresh flowers on the bar, to custom wooden trays for specialty treats, to unconventional geometric glassware. And after a few years of collaborating with other celebrated local roasters, the brand has transitioned to roasting its own beans—with forthcoming plans to open a second location: downtown's only café-roastery.
https://www.littleowlcoffee.com
1555 Blake Street
The Milestone Maker | Sweet Bloom Coffee Roasters, Lakewood + Arvada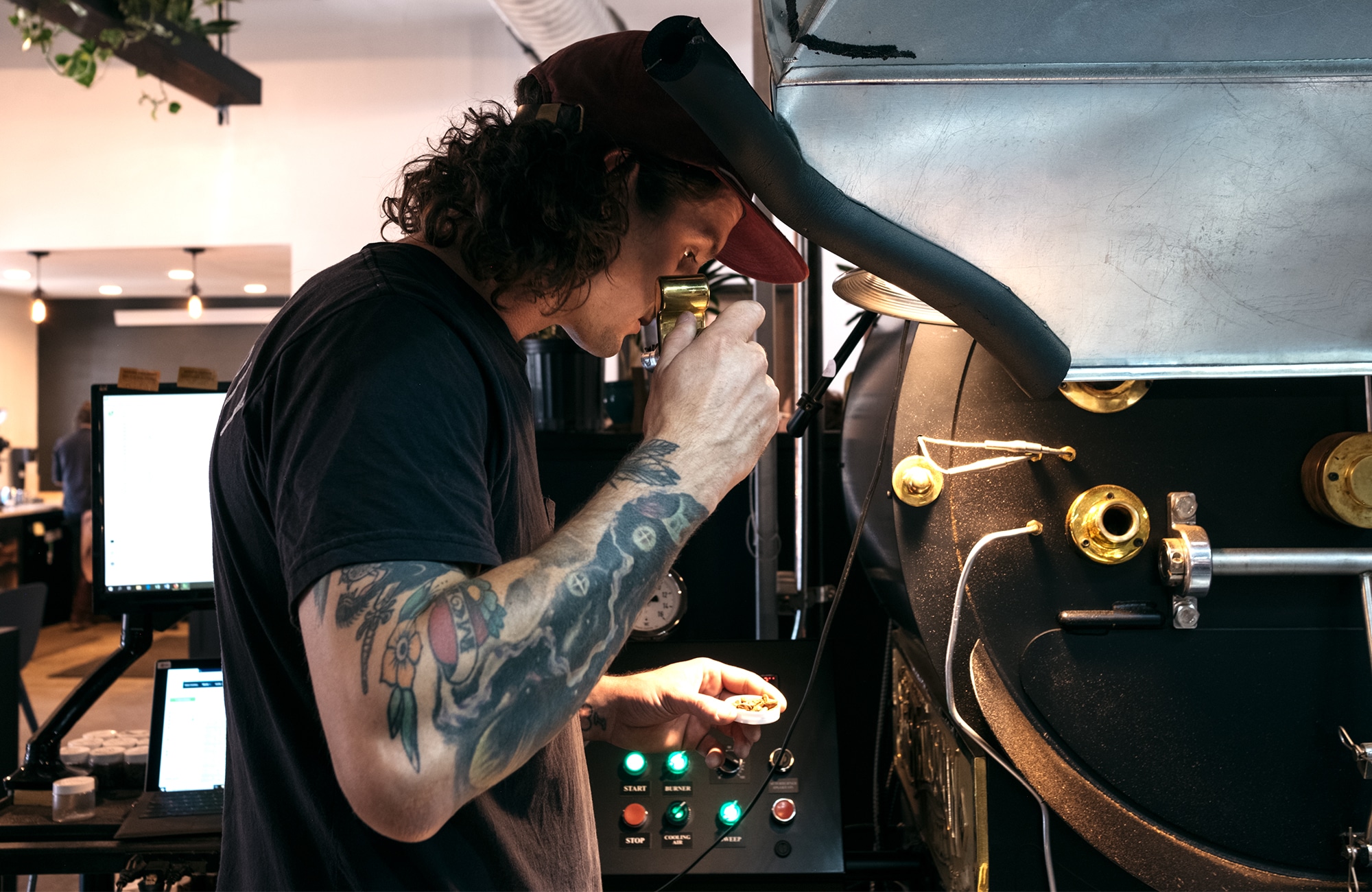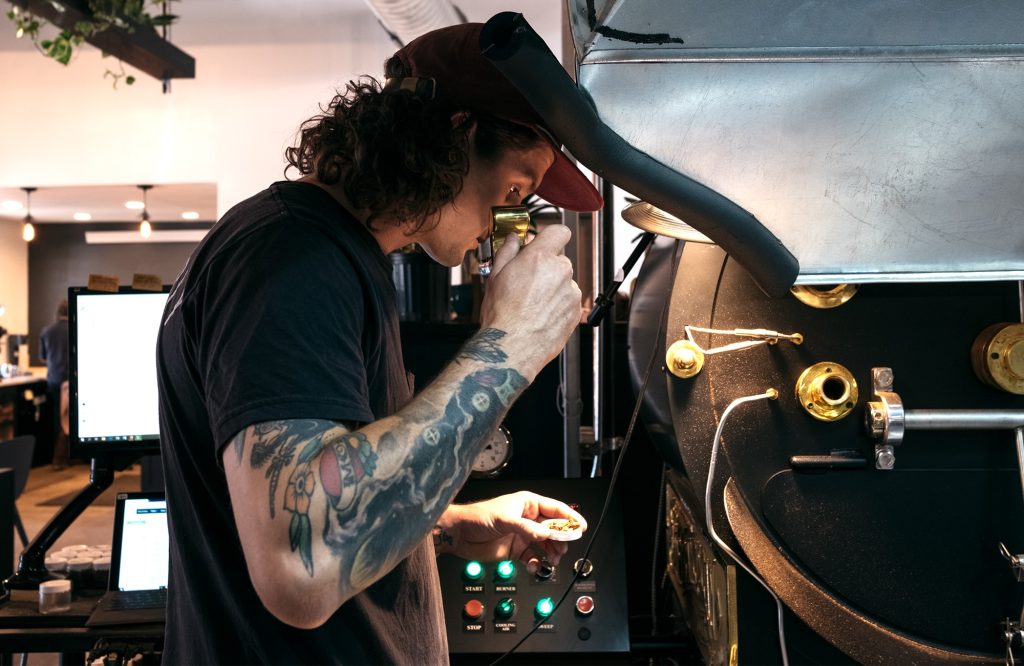 Andy Sprenger may have grown up in Lakewood—a suburb of Denver—but he gained his chops on the east coast at Ceremony Coffee Roasters in Maryland. When he did return to Colorado in 2013, it was with multiple national and international Brewer's Cup and Aeropress Championship honors under his belt. As Eric Yochim, Sprenger's partner at Sweet Bloom explains, "When Andy moved back to town, we all sensed the Denver scene was about to get serious." And Sprenger didn't fail to deliver, establishing bar-setting direct trade sourcing, a coffee education lab, and a cult following that extends far beyond the Colorado market. As for Sweet Bloom's future, a third location in Westminster is already in the works—fueling Denver's suburbs with some of the state's most remarkable beans. Yet if you can only visit one location, we recommend the recently redesigned Lakewood flagship, where you can practice cupping or brewing with Sprenger's expert team or simply watch the brand's head roaster in action.
1619 Reed St, Lakewood | 7745 Wadsworth Blvd C, Arvada
The Not-So-New Kid On the Block | Middle State Coffee, Sante Fe Arts District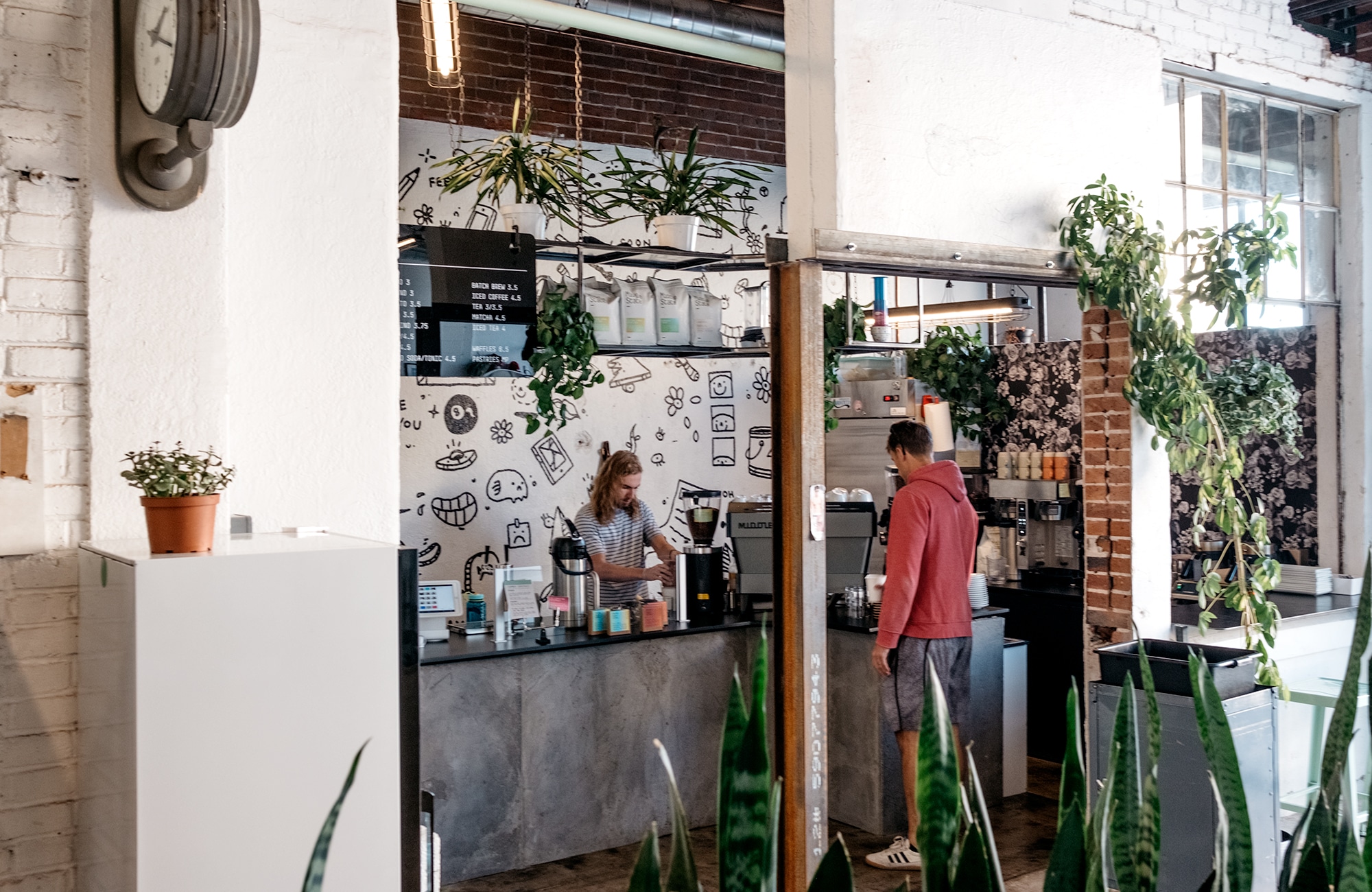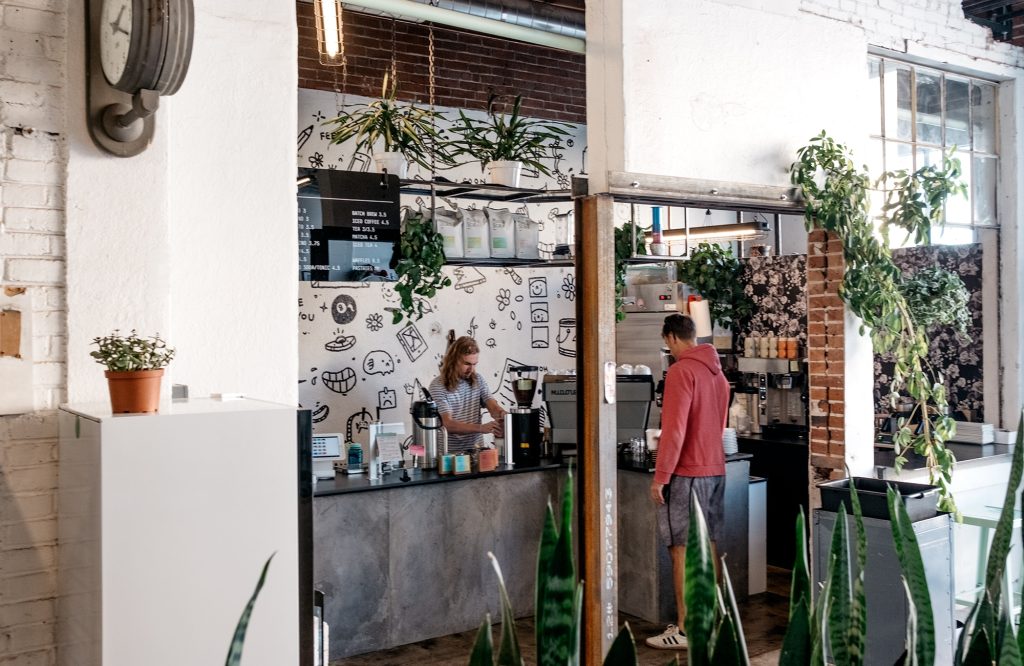 Long before Jay DeRose started independently roasting as Middle State in 2013, he earned his chops at the widely respected Happy Coffee (now closed) and as the Director of Sales for Denver importer and producer 90 Plus Coffee. Yet it was only with the 2019 opening of Middle State's first café that many Denverites learned the story of this local legend. In his just-months-old industrial space, guests will spot all the trappings of a trendy Brooklyn shop—record player, cascading plants, neon signage, vegan waffles—while still enjoying the chilled-out friendliness of, well, a "middle state." DeRose also runs the coffee bar at Denver's Museum of Contemporary Art, for those seeking a dash of downtown culture alongside his complex roasts.
https://www.middlestatecoffee.com/
212 Santa Fe Drive
---
☕️