The SCA Global Specialty Coffee Expo is one of coffee's largest events around the globe. Each year, coffee industry professionals come together to connect, learn, and see what's new around the industry.
With the Expo being in our hometown of Seattle again this year, we wanted to create an experience for home baristas visiting the city—a chance to connect with other home baristas, experiment with espresso, and learn from the industry's best.
Introducing Welcome Home, a series of classes & presentations for the Home Barista.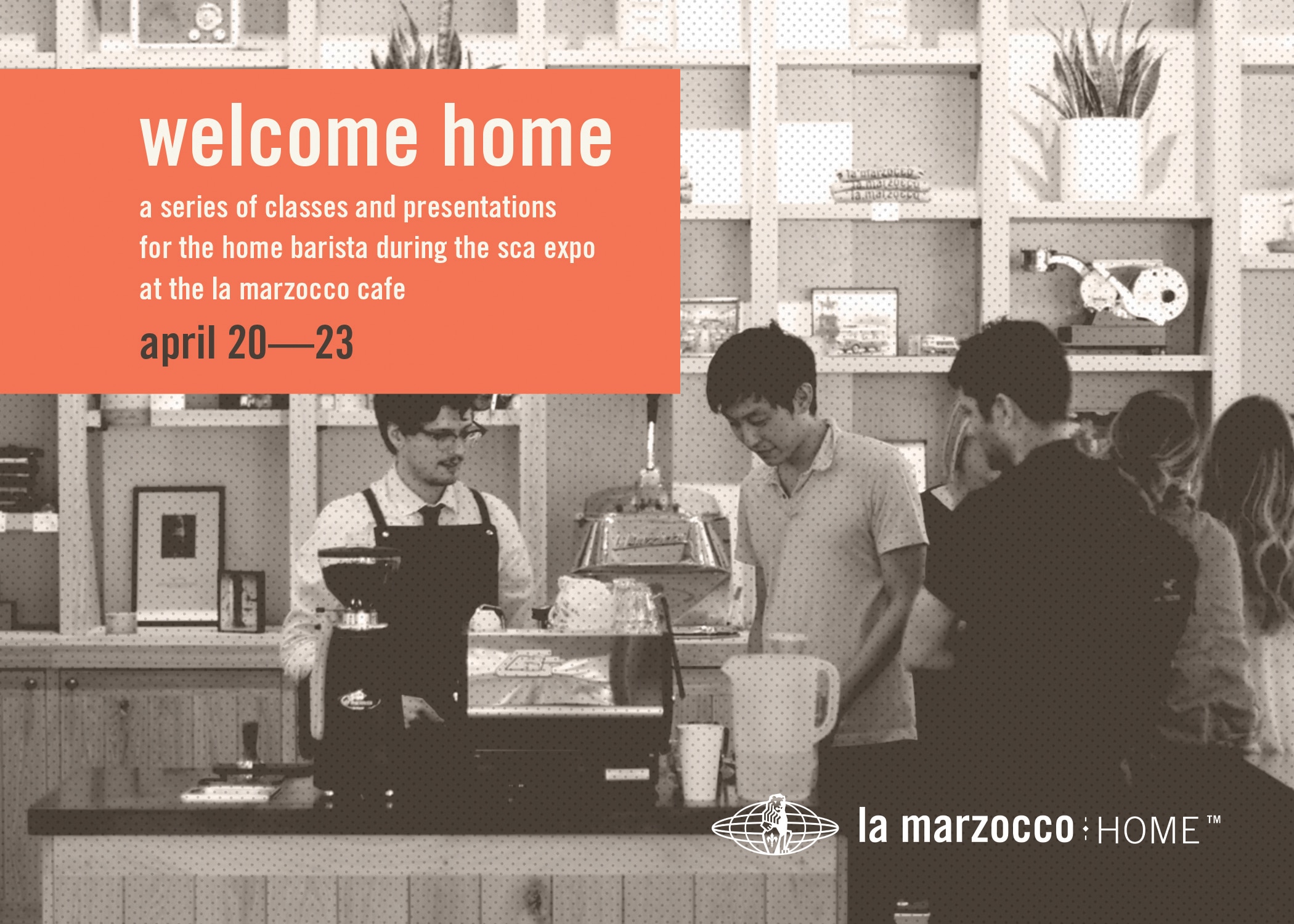 From April 20 – 23, we're setting up shop at the La Marzocco Cafe and hosting a series of events geared specifically for home coffee & espresso enthusiasts. The entire event will be open to the public and will feature hands-on classes with the Linea Mini & GS3 taught by La Marzocco staff, as well as talks by industry experts.
We have an incredible roster of speakers and teachers lined up each day, and topics will cover barista tool design, beginner & advanced espresso, coffee tasting from Nordic Approach, blending & tasting with the Opposites Extract Podcast from Cafe Imports, Home Roasting with Ikawa Roasters, Cat & Cloud's Chris Baca, Barista Tool Design with Artpresso Design, and more. Each day, guests will also have a chance to view our Songwa art installation—a coffee farm in Tanzania partially owned by La Marzocco—as well as participate in La Marzocco 90th Anniversary events.
If you're a home barista thinking of making the trip to Seattle for Expo, we hope you'll join us at Welcome Home. All events and presentations are free and open to the public—just show up on time for the events you're interested in.
Check out the schedule below, including a description of each event: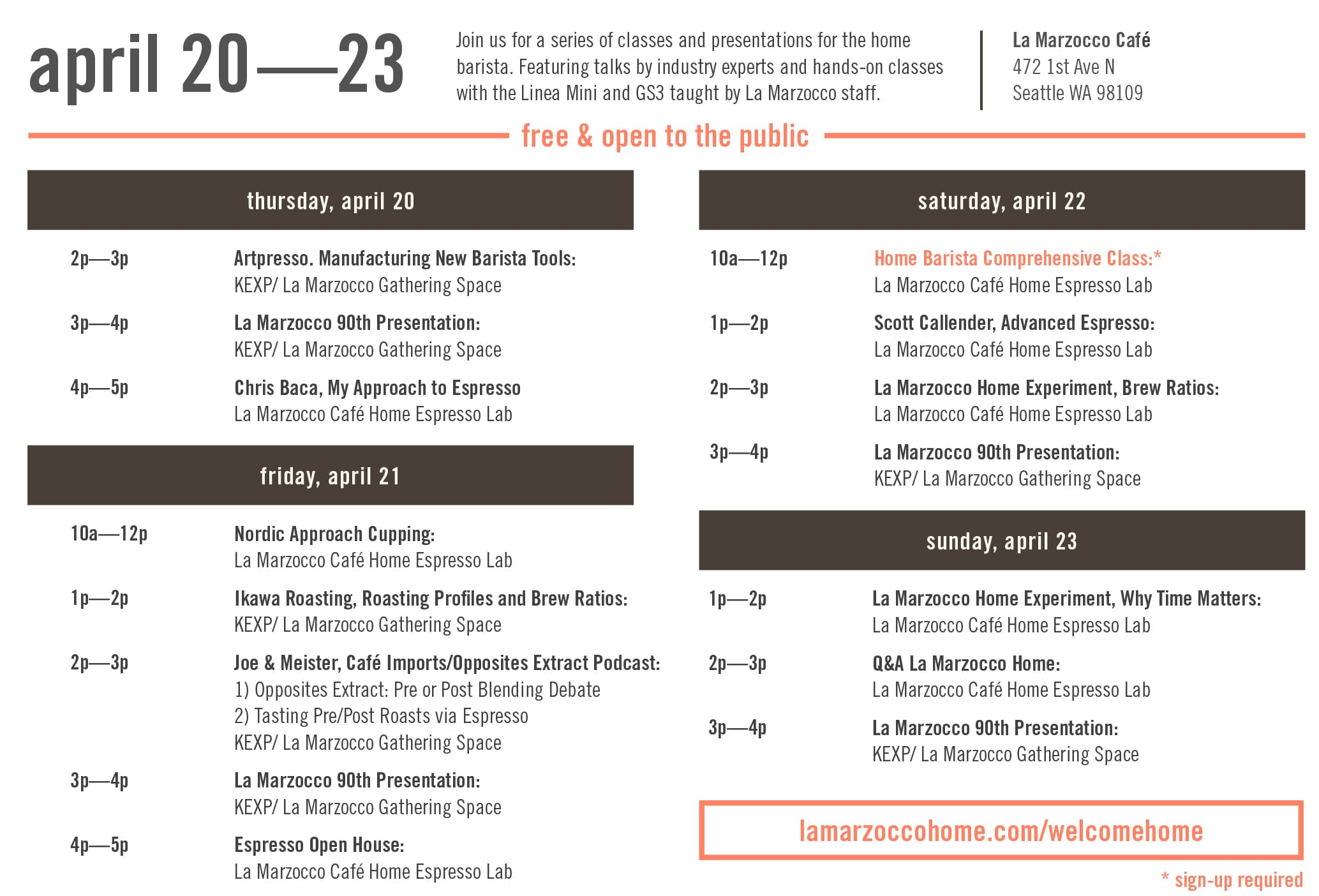 Welcome Home Event Schedule & Description
————————————————————————————
Thursday, April 20
Manufacturing New Barista Tools with Artpresso — 2pm
Join the design team at Artpresso to walk through the product design process. Throughout this presentation, you'll learn about how Artpresso uses design to solve common problems facing the home barista and create advanced products that are esthetically pleasing & functional.
La Marzocco 90th Anniversary Presentation — 3 pm
My Approach to Espresso with Chris Baca — 4 pm
Cat & Cloud's Chris Baca will be on hand to dispel commonly-believed espresso myths, chat through his approach to brewing espresso, and drop espresso knowledge in general. Don't miss this talk from one of the coffee industry's most exciting and respected thought-leaders.
—
Friday, April 21
Coffee Cupping with Nordic Approach —10 am
Drop by for a full-catalog coffee tasting with Nordic Approach, one of the world's most innovative green coffee importers. Nordic Approach imports great coffees from the most interesting origins based on cup profile. They're renowned for their transparency through the entire coffee chain and work tirelessly to achieve a sustainable quality coffee production.
Roasting Profiles & Brew Ratios with Ikawa Roasting — 1pm
Home coffee roasters! Join Ikawa Roasting as they talk through everything from the roasting process all the way to roasting coffee for specific brew ratios. We speak a lot about brew ratios at La Marzocco Home, and couldn't be more excited to have experienced coffee roasters talk through their approach to brew ratios.
Opposites Extract Podcast Debate with Cafe Imports — 2pm
To take roasting one step further, we'll have Meister and Joe from the Opposites Extract Podcast on hand to debate blending coffee (pre-roast or post?) and tasting blends as espresso. Meister and Joe will each take a stance on pre- or post-roast blending, and will "argue" the pros and cons for each. To finish off, they'll blend (onstage) both pre- and post-roast blends as espresso for attendees to taste!
La Marzocco 90th Anniversary Presentation — 3pm
Espresso Open House with la Marzocco Home — 4pm
Join the La Marzocco Home Team for an Espresso Open House—try out La Marzocco Home machines, brew & taste espresso, and talk with our team about anything and everything espresso.
—
Saturday, April 22
Home Barista Comprehensive Class — 10 am— *SOLD OUT*
Making your own espresso at home is as satisfying as it is delicious. Learning the steps to pull a shot is simple, but learning how to manipulate the variables of espresso, milk steaming, and pouring milk is a lifelong pursuit. Join us to learn the basics of being a home barista, and discover how easy it is to fall in love with the ritual of making espresso drinks in your own home.
Advanced Espresso with Scott Callender — 1pm
Join La Marzocco Home's Scott Callender for an interactive walk through extraction. He'll dive into brew ratios and extraction while also taking a look at what exactly is being pulled out of coffee throughout the brewing process.
Lab Experiment: Brew Ratios — 2 pm
We talk a lot about brew ratios, but why do they matter? Together, we'll go through the process of pulling espresso at different brew ratios, doing comparative tastings, and discuss our findings.
La Marzocco 90th Anniversary Presentation — 3pm
—
Sunday, April 23
Lab Experiment: Why Time Matters — 1 pm
Many of us use scales and rely on weight to dictate when we stop our shots, but that doesn't mean time is irrelevant. Together, we'll look at how time impacts the espresso-brewing process, comparatively taste, and discuss our findings.
Espresso Q & A with La Marzocco Home — 2pm
Raw and honest thoughts on espresso from the La Marzocco Home Team. Sit down with us and ask us anything about our machines, our thoughts on espresso, and anything else you might want to know. Our answers might surprise you.
La Marzocco 90th Anniversary Presentation — 3pm
☕️
---
La Marzocco Café is located at 472 1st Ave N, Seattle, WA 98109
Let us know if you'll be attending!